Do you know what WinterWaldo is?
WinterWaldo is promoted as a useful browser extension that can customize your online experience. However, our security researchers say that this program is an adware application that can easily expose you to potentially harmful content. If you happen to have this program on your computer, it would be in your best interest to remove WinterWaldo as soon as possible. In this description, we will tell you more about the application, where it comes from, and what could possibly happen if users ignore this intruder. In short, you should do all you can to avoid similar apps in the future.
Now, how do such programs even manage to enter target systems? After all, users clearly do not install a program if they do not want it, right? Well, that is a rather tricky situation. Of course, we believe that you did not go to winterwaldo.com, and you did not add the extension to your browser. What's more, the link on the official page does not even work, so the direct distribution source is dysfunctional. Therefore, it means that WinterWaldo employs other methods to reach multiple computers worldwide.
We believe that this application travels bundled with freeware because that is one of the most common distribution methods employed by adware. Unfortunately, this means that you installed WinterWaldo on your computer yourself, even if you were not aware of that. You probably downloaded some freeware app from a file-sharing site, and you did not even think that this app could have come bundled with several other applications. This is why it is extremely important that you read all the installation steps in the installation wizard. It is more often than not that setups inform users about the additional features that are about to be installed or added to their browsers. So there is a chance that you could have avoided adding WinterWaldo to your browser if you had been more attentive. Also, you can always scan the installer file with a security application, especially if you are not sure the file you have downloaded is safe.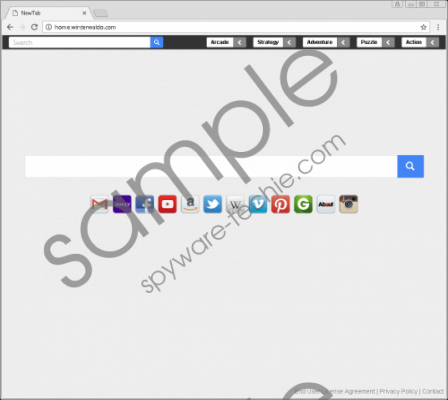 WinterWaldo screenshot
Scroll down for full removal instructions
However, now that WinterWaldo is on your computer, what can we expect from it? Of course, as an adware application, it should display commercial content with the intention to make you click it, thus generating some financial profit. However, this adware app also has some browser hijacker properties because it can also change your default homepage, search engine, and the new tab settings to search.winterwaldo.com or home.winterwaldo.com. With that, the program may try to pass for a search provider, but we have tested these domains in our lab, and we have found that all the search queries entered in the WinterWaldo sites lead to Google. So the program employs the Google search engine to provide you with search results. What's more, there is no guarantee that the search results filtered through WinterWaldo's servers are reliable because the program might as well "integrate third party content <…> in order to enhance your new tab with the ability to change browser settings and bring search results to you." At least this is what an extract from the program's Terms of Use says.
Of course, this might sound like a good idea, especially if you prefer customized search sessions, but whenever the so-called "third-party content" is involved, you have to remember that the adware programs or any other application that delivers it usually cannot be held responsible for its security. In other words, there is always a chance that the program could get exploited by malevolent third parties for corrupted content distribution, and that is why it is important that you remove WinterWaldo right away.
Resetting your browser settings to default should do the job, but we cannot forget that there might be more dangerous programs on-board. So after manual removal, you will do yourself a favor if you run a full system scan with the SpyHunter free scanner. Do not hesitate to do all you can to protect your PC from harm. If more unwanted programs are detected, delete them automatically with a reliable security tool. And make sure that you stay away from unfamiliar websites in the future because that is one of the best ways to avoid similar threats.
How to Remove WinterWaldo
Internet Explorer
Press Alt+T and go to Internet options.
Click the Advanced tab and click Reset.
Select Delete personal settings and click Reset.
Press Close.
Chrome
Press Alt+F and go to Settings.
Click Show advanced settings at the bottom of the page.
Click Reset settings at the bottom of the page.
Press Reset.
Firefox
Press Alt+H and go to Troubleshooting information.
Click Refresh Firefox at the top right of the new tab.
Press Refresh Firefox and click Finish.
In non-techie terms:
WinterWaldo might have entered your system accidentally, and this adware program is not something extremely dangerous. However, whenever a program enters your system uninvited, you need to get rid of it. You can remove WinterWaldo following the instructions above, but the most efficient way to terminate potential threats is investing in a security product that would delete all the unwanted programs and safeguard your PC from similar intruders.