Do you know what Windows Web Shield is?
Cyber criminals have not given up deceiving computer users, and Windows Web Shield is the latest example of how a scareware program may look like. Windows Web Shield features an interface which resembles Windows programs; however, it has nothing to do with Windows or Microsoft. Windows Web Shield is a rogue security tool which replaces Windows Internet Watchdog, Windows AntiBreach Patrol, Windows Internet Guard and many other deceptive security programs.  These malware programs are referred to as the Rogue.VirusDoctor family, but you may also find some sources where they are called FakeVimes.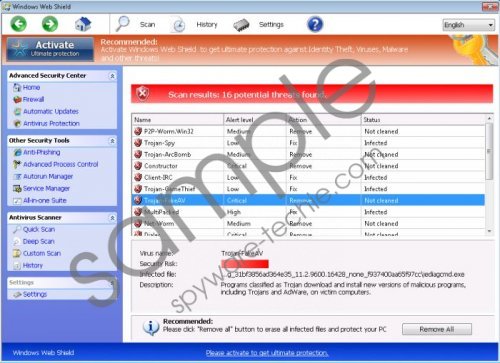 Windows Web Shield screenshot
Scroll down for full removal instructions
During the installation, Windows Web Shield creates numerous components, including registry entries. As a result, your access to Windows files and executable files, including Internet browsers, is restricted. On top of that, you are provided with fake scan results and pop-up warnings encouraging you to register the program in order to have all those infections removed. The truth is that Windows Web Shield cannot identify a single malicious file; therefore, it would not be wise to invest in a program that cannot safeguards the system against malware and spyware.
The price of Windows Web Shield (which varies from $49.95 to $99.9) depends on the length of the subscription terms; nevertheless, by entering your information in the order form, you provide the criminal with personally identifiable information, including your name, credit card number, its expiration date, CVC/CVV2, and home page address. If you do not want to suffer from identity theft, remove Windows Web Shield from your computer as soon as you can and make sure that your computer is protected against similar and other threats.
The removal of Windows Web Shield can be effortless if you choose the right way of removal. We recommend that you activate the program using one of the registration keys provided and then implement SpyHunter, which has been used by many computer users to remove Rogue.VirusDoctor programs. The recommended application can also fight off browser hijackers, adware programs, Trojan horses, and many other threats, so do not wait any longer if you want to be secure on the Internet.
Registration keys:
0W000-000B0-00T00-E0022
0W000-000B0-00T00-E0021
If you do not want to use the registration key and want to try another way of malware removal, follow our removal guide presented below. Bear in mind that you use the removal guide at your own risk, and, if you have any questions regarding the removal of Windows Web Shield, feel free to leave a comment below.
How to remove Windows Web Shield
Reboot the computer.
As soon as the BIOS screen loads, start tapping the F8 key.
Select Safe Mode with Command Prompt (use the arrow keys).
Press Enter.
Enter cd.. next to C:\Windows\system32 and press Enter.
Type in explorer.exe next to another line and press Enter.
Open the Start menu.
Launch Run or click on the search box (Windows Vista/7).
Type in %appdata% and press Enter.
Remove svc-[random file name].exe.
Restart the computer.
Open the Start menu.
Launch Run or click on the search box (Windows Vista/7).
Enter regedit into the box and click OK.
Go to HKEY_CURRECT_USER\Software\Microsoft\Windows NT\Current Version\Winlogon.
Right-click on Shell and click Modify.
Type in %WinDir%\Explorer.exe and click OK.
Go to http://www.spyware-techie.com/download-sph to download SpyHunter.
Implement the software program and remove Windows Web Shield.
In non-techie terms:
Windows Web Shield is a highly dangerous computer infection which alters the settings of the operating system so that you cannot use any computer programs. Windows Web Shield should be removed from the computer as soon as possible because it cannot ensure online security. The easiest way to remove Windows Web Shield is to register the program using the above-given registration keys and implement a reputable spyware and malware removal program.