Do you know what Windows Virtual Angel is?
If you have detected Windows Virtual Angel on your computer and you are not sure whether to trust it or not, we strongly advise you to delete it as soon as you can. This so-called antivirus software is a piece of malware that wants to trick you into buying its fake full version. Windows Virtual Angel applies different tactics to make the Windows user believe that his/her machine is full of infections and expects the user to pay money for its nonexistent application.
Windows Virtual Angel is also an exact copy of Windows Profound Security, Windows Expert Series, Windows Virus Hunter and others that belong to the Rogue.Virus Doctor family. As the only aim of any of the rogues is to obtain money from unsuspecting users, whenever these infections are noticed in the system, they should be removed. If you do not remove, for example, Windows Virtual Angel, it will not stop irritating you with its misleading information and impairments of the system caused just after the installation until you purchase or remove it.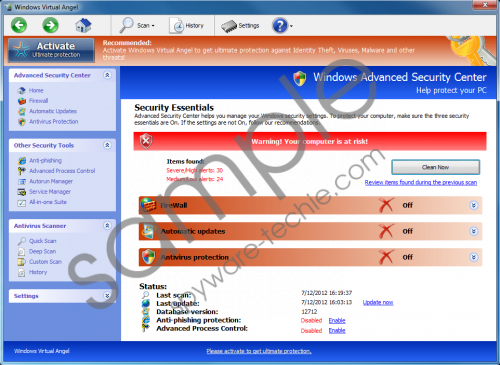 Windows Virtual Angel screenshot
Scroll down for full removal instructions
Misleading information is provided in the form of scans, infections and pop-up messages. These should be ignored at any price. For example, you might get such infections as Porn-Downloader, Trojan-Ransom, Server-Web and many others, which do not exist in the system, and, as you can see, bear generic names, which do not exactly define what particular infections they are. You should not try to remove them, because, very often, valid files of the system are presented as infections.
Additionally, ignore all the notifications that get from Windows Virtual Angel. Some of them are given to help you recognize this pest:
Error
Keylogger activity detected. System information security is at risk. It is recommended to activate protection and run a full system scan.

Error
Attempt to run a potentially dangerous script detected. Full system scan is highly recommended.

Warning! Virus Detected
Threat detected: FTP Server
Windows Virtual Angel also impairs the system so that you start thinking that the infections detected have caused different disorders. For example, the malware disables access to the Internet so that you cannot remove Windows Virtual Angel with an automatic removal tool downloaded from the Internet. Moreover, it hides Task Manager and Registry Editor to stop you from removing it manually, and disables some executable file.
Luckily, you can terminate this infection either manually, or automatically, if you activate the so-called full version of the malware. Do not purchase the activation key because it is already provided. After the activation, the malware restore hidden tools and do not "scan" the system any longer; therefore, you can delete the infection undisturbed.
Activation key: 0W000-000B0-00T00-E0020
We strongly advise you to remove Windows Virtual Angel automatically. You will need to acquire a legitimate and powerful tool so that the rogue is deleted completely. A powerful tool detects and deletes everything related to the rogue, and you do not have to struggle with the manual removal of Windows Virtual Angel.
In non-techie terms:
Windows Virtual Angel is a bogus application that aims to lure computer users into believing that their computers are infected. Delete this malware as soon as you can if you notice it on your PC.
Aliases: WindowsVirtualAngel.