Do you know what Windows Security Virus is?
Windows Security Virus is a deceptive computer infection which modifies the Windows hosts file so that the user cannot access certain websites. More important, instead of the blocked windows, the user is provided with a fake scanner, which is called Windows Security. According to the search results, the computer is infected, and the threats detected have to be removed from the computer as soon as possible. It is crucial to ignore the recommendation of the scanner even though the price of the malware removal is only $4.75 USD. In order to receive payments, the attackers require that the victims use the Payeer.com money transaction system. We recommend that you ignore the requirement and remove the so-called Windows Security Virus from the computer because nobody guarantees that your hosts file will be fixed after spending the requested sum of money.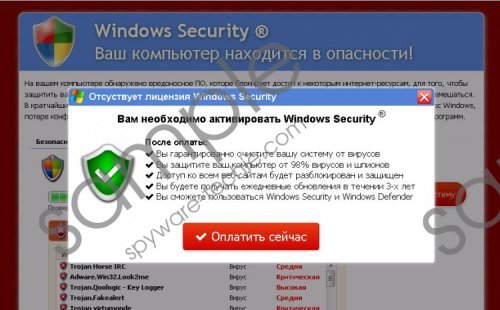 Windows Security Virus screenshot
Scroll down for full removal instructions
As for the hosts file, it is known that the infection, whose name may be w1ndows_b456 or similar, modifies the hosts file by adding over 700 entries. Those entries are various website addresses, and when you enter any of those addresses into to the address bar of the browser, the fake scanner is displayed. The Windows Security Virus blocks access to famous social networking websites, including Facebook and Instagram, not to mention many other Russian websites.
The Windows Security Virus starts running once you log on to your Windows, and the fake scanner may be displayed on the screen as soon as you launch your browser.
The fact that your computer is afflicted by the Windows Security Virus indicates that you pay little attention to your online security because the infection enters the computer via malicious websites, spam emails, and deceptive pop-up advertisements. You should always pay close attention to your online security because there are multiple malicious threats that can steal your personal information.
In order to provide the computer with protection against multiple threats, and, most important, remove the Windows Security Virus from the computer, you should implement our recommended security tool SpyHunter. This program will eliminate the Windows Security Virus from the computer and fight off multiple threats, including browser extensions, Trojan horses, fake anti-virus programs, rootkits, adware, and the like.
In non-techie terms:
Windows Security Virus is a computer threats that alters the settings of the browser in order to mislead you into paying up a certain amount of money. It is important to ignore its deceptive scanner because the scan results provided by the program have nothing to do with your operating system. If you want to have the Windows Security scanner removed by our recommended program, use the below-given instructions.