Do you know what Windows Route Manager is?
The presence of Windows Route Manager is mostly noticeable because of its annoying pop-us windows that promote another potentially risky software called Online Ad Scanner. After careful testing in our internal lab, our researchers categorized this infection as a potentially unwanted program, or PUP. Do not be misled by this naming. Although most computers are likely to be infected with at least one PUP and these applications are not considered to be dangerous threats, you should still be aware of the potential risks you may be facing. This PUP may, for example, present to you potentially unsafe web content by displaying promotional websites. Another trait we have noticed is that this application can noticeably slow down your operating system, which can ruin your normal routines in your virtual world. Since this PUP can also enter your computer along with malicious software installers, it is really unreliable and undesirable on your system. We suggest that you remove Windows Route Manager if you do not want to experience further security and performance-related issues.
Nothing about this application seems right in fact. First of all, its official webpage, rangesoft.org, is the same used by an identical program called Windows Range Manager. Second, you cannot find any information or download availability on this page because it simply displays the promotional page of a different product called Online Ad Scanner, which is the main sponsored app promoted by this PUP. Third, even if you were as careless as wanting to download this useless software, clicking on the Download button would not get you too far; well, you would land on a "404 Not Found" error page meaning that the "setup.exe" installer file is unavailable. These are rather suspicious traits that should already raise the red flag and make you want to delete Windows Route Manager right now. But it gets worse.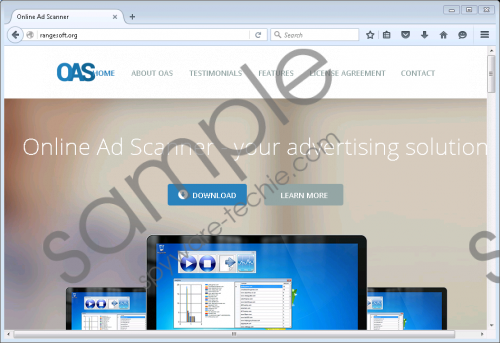 Windows Route Manager screenshot
Scroll down for full removal instructions
According to our research, this PUP travels the web in free software bundles. Why is this bad news for you? Because of the fact that such bundles can pack a number of PUPs and, what is worse, malware infections as well, including adware programs, browser hijackers, and Trojans. Letting such a lot onto your computer can make your system vulnerable and exposed to cyber criminals. That is why it is important that you make sure that there are no adware programs and browser hijackers that could introduce you to corrupt third-party ads and links, which can lead to downloading such malicious bundles. Also it is essential that you know that another very common source for these bundles are suspicious websites, including gaming, porn, dating, torrent, and freeware websites. Clicking on any content on these pages could result in the same way. This is why we suggest that you delete Windows Route Manager and scan your system with a reliable malware scanner to find all other infections as well.
This PUP starts up automatically every time you restart your machine. Thus, even if you kill the process called WinRouteD.exe this infection uses to operate through, you cannot really eliminate this threat. As a matter of fact, this process is a real "baddie" because it can use up to 50% of your processor's capacity, which can noticeably slow down your computer. It seems that this undesirable process might also cause certain system processes to malfunction. Once this application is up and running, it distracts you with its annoying promotion pop-up windows. This infection is also capable of opening several potentially unreliable pages every time you launch your browsers. This kind of exposure to potentially unsafe web content can lead to more infections or landing on fake and malicious websites when engaged with. If you do not want to cripple your system or lose money to criminals in an online scam, we suggest that you remove Windows Route Manager from your computer.
Finally, we have good news for you because it is really easy to get rid of this annoying PUP. All you need to do is find the uninstaller in Control Panel and run it. If you have never uninstalled an application before, please use our instructions below as a reference. It is really easy to do it even if you are not an expert user. But, of course, this will only clean Windows Route Manager from your computer and there is a good chance that there are several other threats on board. You can try to detect all infections manually but we recommend that you download and install a trustworthy anti-malware program for best protection. What could be more effective and simple than automatic malware detection and elimination?
Windows Route Manager Removal from Windows
Windows XP
Access the Start menu and go to Control Panel.
Pick Add or Remove Programs.
Click on the application and press Remove.
Windows Vista and Windows 7
Press Win+R and type control panel. Click OK.
Select Uninstall a program.
Click on the application and press Uninstall.
Windows 8, Windows 8.1, and Windows 10
Press Win+Q and enter uninstall a program.
Click on the application and press Uninstall.
In non-techie terms:
Windows Route Manager is an annoying and useless application that can be installed even without your notice as an addition to a freeware bundle. Our researchers have labeled it as a potentially unwanted program because it cannot be called a malicious threat. Yet, it is important to understand the potential risks you take if you have this application on your system. This PUP displays pop-up windows on your screen promoting another questionable application called Online Ad Scanner. This infection can also open several potentially unreliable websites when you launch your browsers. According to our researchers, this PUP can also use up a lot of CPU capacity making your PC work slower. We recommend that your remove Windows Route Manager as soon as possible because this software can disturb your normal system performance. If you want an effective method to fight similar and more dangerous threats, we advise you to install a reputable anti-malware application.