Do you know what Windows Profound Security is?
If you still do not have legitimate antivirus software installed, you might get infected with Windows Profound Security which is a computer infection having features of legitimate security applications. Very often computer users place their trust in this type of infections, because the information provided by the malware sounds convincing. Scans and infections look professional, and the user does not even think that her or her "antivirus software" should be removed.
Windows Profound Security cannot be trusted, because its ultimate goal is to persuade users to pay money for an imaginary full version that will "delete" Trojans, worms and other infections. The malware is also a copy of Windows Expert Series, Windows Virus Hunter and others that belong to the same the Rogue.VirusDoctor family. None of the members of the family can be trusted, and if you find, for example, Windows Profound Security on your computer, remove it as soon as you can.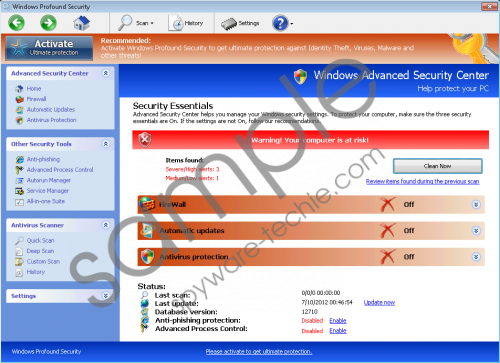 Windows Profound Security screenshot
Scroll down for full removal instructions
If the rogue is not removed for a while, the pleasure of using the computer is lost because of the rogue's behavior. Annoying pop-up messages do not allow the user to use the computer normally, not to mention the fact that the Internet connection and some Windows applications are disabled. First, to help you recognize Windows Profound Security, find some of its bogus notifications:
Error
Software without a digital signature detected. Your system files are at risk. We strongly advise you to activate your protection.

Error
Attempt to run a potentially dangerous script detected. Full system scan is highly recommended.

Error
Potential malware detected.
It is recommended to activate protection and perform a thorough system scan to remove the malware.
As it was already mentioned, the rogue disables the Internet and some applications. Registry Editor, Task Manager and some executable files are disabled and hidden, and that makes the removal of Windows Profound Security even harder. For example, if you had your Internet connection available, you could download a spyware removal tool and get rid of the infection easily. Moreover, Registry Editor and Task Manager are necessary for the manual removal of the rogue, and as you cannot use these tools, the rogue cannot be removed.
Thanks to ethical hackers, you can delete Windows Profound Security manually or automatically if you first register the rogue. The activation key that you have to use is free of charge, and you do not need to buy the rogue. After the activation, the tools discussed are restored as well as the Internet, and you can choose either of the ways of removal.
Activation key: 0W000-000B0-00T00-E0020
We recommend you delete Windows Profound Security with a legitimate anti-malware or anti-spyware tool. If you terminate the infection in this way, there is not risk that the infection will be regenerated, because every single component of the rogue is detected and removed from the computer. Additionally, such a tool you can reuse whenever you want to make sure that your system is not infected.
In non-techie terms:
Delete Windows Profound Security as soon as you notice it on your computer, because this malware needs your money. Do not purchase the rogue, because its operations are simulated; therefore, it cannot detect and removed anything related to infections.
Aliases: WindowsProfoundSecurity.