Do you know what Windows Internet Guard is?
If it ever happens that your desktop becomes black and you just see a strange program running, you should know that it is very probable that you encountered Windows Internet Guard. This program is just a simple rogue application that is not going to do anything good for your system because its main purpose is to earn money. It is already known that all FakeVimes family infections seek to convince users to buy the license. As this program is nothing more than just fake security software, it is not surprising that it will not be useful at all. Instead, it will not allow you to access any of your documents and programs. This is one of the main reasons why we recommend erasing Windows Internet Guard entirely from the system.
This rogue application uses several tactics to convince computer users to upgrade it. The main one is trying to scare them by displaying various fake messages and pop-ups. Besides, it performs a fake scan after it gets on the system and then provides a list of infections that are supposedly residing in your system. Of course, it offers to remove them as well, but you will have to buy the license that costs $99.90. You should definitely not spend your money on the license of this fake program because you will lose your money and you will not be able to get them back. What is more, you will reveal all your credit card details, which is rather dangerous because cyber criminals might use them in the future. As you can see, the most what you can do is to erase Windows Internet Guard from the system. Unfortunately, it is not a very easy process because it blocks .exe files and browsers, which mean that you will not be able to erase it via Control Panel.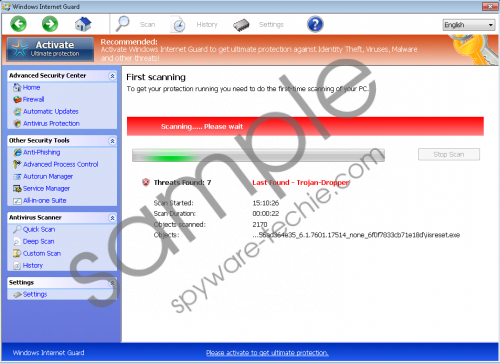 Windows Internet Guard screenshot
Scroll down for full removal instructions
It has been found out that this rogue application is very similar to those that it replaces, for instance, Windows Internet Watchdog and Windows Web Watchdog, which all enter the system without permission. You should not believe those ads that you might meet on the web claiming that your system is infected and offering to download a scanner if you do not want to infect your PC. Besides, Windows Internet Guard might enter the system if you open infected spam attachments or keep visiting adult websites; thus, you should stop doing this. As you can see, it is especially important to be careful. However, if you suspect that you have Windows Internet Guard already on your PC, make sure that you erase it as soon as possible. You can also enter one of the following keys in order to disable the symptoms.
Activation keys:
0W000-000B0-00T00-E0022
0W000-000B0-00T00-E0021
It is not an easy task to remove Windows Internet Guard because it, as has been already mentioned, cannot be removed via Control Panel. Thus, it is better to choose the automatic removal. For this matter, you will have to acquire a reliable antimalware tool, for instance, SpyHunter. It will scan your system and remove this rogue software immediately. Besides your system will be protected in the future as well.
How to erase Windows Internet Guard
Restart your computer.
Start tapping F8 when BIOS screen appears.
Select Safe Mode with Command Prompt using arrow keys.
Tap Enter.
Type in cd.. alongside C:\Windows\system32 and tap Enter.
Enter explorer.exe and tap Enter.
Open the Start menu and then select Search/RUN.
Enter %appdata% and tap Enter again.
Locate svc-[random file name].exe and delete it.
Restart your computer.
Open the Start menu and launch RUN or select Search.
Type in regedit and click OK.
Follow this path HKEY_CURRECT_USER\Software\Microsoft\Windows NT\Current Version\Winlogon.
Locate Shell, right-click on it and then select Modify.
Visit http://www.spyware-techie.com/download-sph and download SpyHunter.
Install it and remove Windows Internet Guard.
In non-techie terms:
Rogue applications might get on your system without your permission, but you will definitely notice them because they will block your desktop and you will definitely notice a program running. Even though they might seem decent from the first sight, you should definitely not buy the license because you will just help cyber criminals earn money. Thus, if you ever notice a strange program running, you should better erase it without further considerations.