Do you know what Windows Home Patron is?
Windows Home Patron is one of the many clones that Rogue.VirusDoctor schemers keep introducing to the masses nearly every single day. Some might be already familiar with such predecessor rogue antispywares as Windows Virtual Firewall or Windows Premium Defender; however, most Windows users will not have a single clue that such disastrous infections even exist and can attack their personal data. It is not hard for cyber crooks, highly experienced hackers, to manage various security cracks as spam emails or illegal downloads, both of which are amongst the most popular malware infiltration channels. All in all, whichever way the rogue gets in, it is clear that you should remove Windows Home Patron the second you suspect its existence in your system.
In the beginning of the infection, the symptoms, which could help you detect the rogue, are nearly invisible, and many Windows users tend to think that slower PC performance or Internet connection issues cannot be related to malware activity. Despite this, further symptoms are much more visible, and are released to create difficulties to remove Windows Home Patron and its components from the infected system. These symptoms can include completely blocked Internet connection and disability to run many of the essential executables, which could aggravate automatic removal tools' installation. What is worse, you will not be able to control your system's processes, terminate malignant ones, or delete rogue's registry keys, as access to Registry Editor and Task Manager will be removed.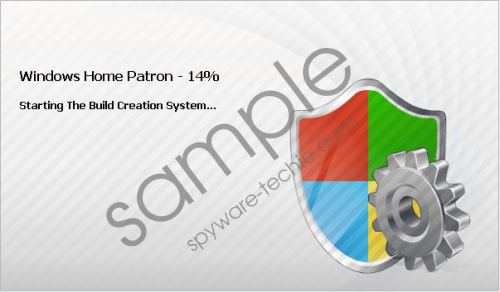 Windows Home Patron screenshot
Scroll down for full removal instructions
To remove these symptoms, we urge the application of an activation code, which will also help you to remove all of the irritating and misleading security alerts.
Activation code: 0W000-000B0-00T00-E0020
See a few examples of the rogue notifications:
Error
Potential malware detected.
It is recommended to activate protection and perform a thorough system scan to remove the malware.

Error
Software without a digital signature detected. Your system files are at risk. We strongly advise you to activate your protection.

Recommended:
Please click "Remove all" button to erase all infected files and protect your PC
In non-techie terms:
You will only be able to run your Windows as you wish, if you delete Windows Home Patron infection from your personal computer. Whichever way you choose to remove the virus, it is best to start with the aforementioned activation code's registration, because this implementation will allow you to continue with your chosen removal processes freely. We recommend using automatic removal tools to delete the rogue antispyware, as only this option can guarantee that no mistakes will be done, and the virus will not have a chance to regenerate. You are also free to remove Windows Home Patron manually, but remember that if you are not highly experienced, this task might be too complicated for you.
Aliases: WindowsHomePatron.