Do you know what Windows Efficiency Master is?
Windows Efficiency Master is a program which mimics a regular computer scanner helping you identify existing Windows infections. Even though you certainly need to install authentic malware detection and removal software in order to ensure that the operating system is scanned regularly and that malignant threats are detected in time, you cannot trust this particular program. Do you know why? It is because this one has been developed by cyber criminals! If you do not unravel the scam and do not delete Windows Efficiency Master from the computer in time, soon enough this threat will warn you about fictitious infections and rush you to delete them with the assistance of a fictitious security tool. Please continue reading to learn more about the tricks of the clandestine rogue and its removal.
The mischievous Windows Efficiency Master can be infiltrated onto your personal computer in many different ways; however, in most cases it is proliferated via misguiding online scanners. If you do face an online scanner rushing you to delete malware, we recommend that you use authentic, reliable and familiar software instead of installing suspicious and potentially dangerous applications. Overall, once the devious threat does slither in, it immediately modifies certain registry entries in order to adjust the running of your personal computer. Due to this, your computer could start operating incredibly slowly, and the running of many executable files could be blocked. Note that the removed access to the Task Manager and blocked access to the browsers can be linked to such Windows Efficiency Master clones as Windows Paramount Protection or Windows Antivirus Master as well.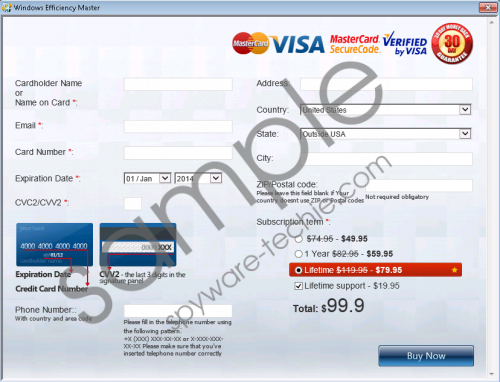 Windows Efficiency Master screenshot
Scroll down for full removal instructions
The clandestine rogue not only disturbs the running of your personal computer but also floods the desktop with highly intimidating and scary notifications. All in all, different pop-ups, recommendations and warnings are meant to create and illusion that malware is attacking your PC and to push you into purchasing the Windows Efficiency Master's full version. If you do not want to expose your home address, telephone number or credit card details, and you do not want to waste your money, you need to stay away from any purchase pages related to the allegedly legitimate malware remover. Note that paying for the full version of the fictitious security program is not only wasteful but also dangerous.
Even if you manage to disable the symptoms of the clandestine rogue, you still need to make sure that all files related to it are deleted from the system successfully. For this reason we recommend installing automatic malware detection and removal software. You can register as a legitimate Windows Efficiency Master user with the help of special registration keys, or you can use the instructions presented below.
Registration keys:
0W000-000B0-00T00-E0001
0W000-000B0-00T00-E0002
0W000-000B0-00T00-E0003
0W000-000B0-00T00-E0011
0W000-000B0-00T00-E0022
Delete Windows Efficiency Master
Restart the PC, wait for BIOS to load and start tapping F8 to access the advanced boot options menu.
Using arrow keys select Safe Mode with Command Prompt from the appeared list.
Now tap Enter to confirm your selection and wait for the computer to boot up.
You should discover the Command Prompt windows on the desktop.
Type cd.. after C:\Windows\system32\ and tap Enter on the keyboard.
Now type \explorer.exe after C:\Windows and tap Enter again.
Move the cursor to the left of the Task Bar and click the Start icon to open the menu.
Type %appdata% into Search/RUN box and tap Enter to access the Application Data folder.
Right-click svc-[random file name].exe and select Delete.
Restart the computer in the Normal Mode and open the Start menu once again.
This time type regedit into the Search/RUN box and tap Enter to launch the Windows Regsitry.
Go to HKEY_CURRECT_USER\Software\Microsoft\Windows NT\Current Version\Winlogon.
Find Shell, right-click it and select Modify.
Locate the Value and change it to %WinDir%\Explorer.exe . Click OK.
Launch a browser and download a malware remover from http://www.Spyware-techie.com/download-sph .
Install the application, perform a full scan and delete all existing threats.
In non-techie terms:
Windows Efficiency Master is a malicious rogue which mimics a legitimate malware remover in order to trick Windows users into paying money for the allegedly useful and necessary full-version security tool. The payment is worthless and if you make the transaction the rogue will continue running on the PC without any meaning or purpose. Unfortunately, it is not easy to remove Windows Efficiency Master manually, which is why we strongly recommend utilizing automatic malware removal software. Follow the instructions above to install a reliable malware remover onto the infected computer.
Aliases: WindowsEfficiencyMaster.