Do you know what Windows Custom Safety is?
There are many malware groups, which could attack your system quickly; however, the family, which has produced Windows Custom Safety, Windows Privacy Module and other fake antispywares, is one of the most vicious ones. Rogues from this circle have been developed by extremely smart and experienced cyber criminals, and hackers behind it have implemented a great number of infiltration paths, which can be used by Windows Custom Safety, which is the newest of the bunch. You might not know when this treacherous program gets inside your operating Windows system, but it is highly important to delete it immediately, once you see its computer scanner running through your system's files, reporting simulated malware.
This fake computer scanner is one of the most dangerous fake antispyware's attributes, as its believable interface and scary proclamations, have made hundreds of oblivious Windows users to purchase the full version Windows Custom Safety removal tool, which, in fact, has no power over your system's security, and definitely cannot detect or delete any realistic infections. Even if you waste your money on the bogus licensed application, no one could tell whether the tool would not regenerate and repeat the same course of actions, or how cyber criminals would use your personal information. What is more, if not deleted timely, the bogus program could create backdoors for other malware to enter!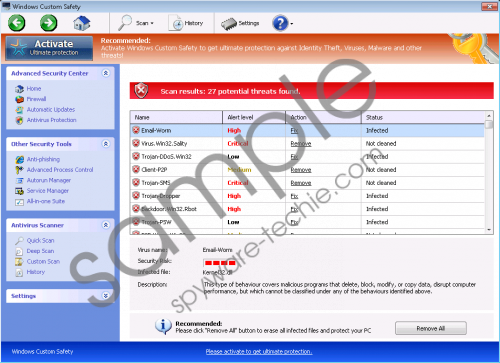 Windows Custom Safety screenshot
Scroll down for full removal instructions
In non-techie terms:
There are a few ways for you to delete Windows Custom Safety from your computer, but we recommend using automatic removal tools, which, unlike other options, can guarantee that the rogue is removed very quickly and effectively. If you have any hesitations about this solution, remember that legitimate security tools will also help you protect your system from malware, which would allow you to browse and download carelessly, without fears of attracting other malicious applications that would require removal.
Aliases: WindowsCustomSafety.