Do you know what Windows AntiBreach Suite is?
What was your initial reaction when you discovered Windows AntiBreach Suite scanning your Windows operating system? Were you glad that you have discovered malicious computer infections? Then it is most likely that you have downloaded the suspicious malware remover onto the PC yourself when discovering a flashy, intimidating online scanner. Were you surprised to discover this program and you cannot explain how it managed to enter the operating system? In this case it is likely that the application has been installed onto the PC without your knowledge. In fact, this is not surprising at all because the seemingly authentic malware detection and removal tool is just another rogue from the Rogue.VirusDoctor family. Everything about this fake AV is misleading, and so you need to delete Windows AntiBreach Suite right away.
Once the clandestine clone of Windows AntiBreach Tool and Windows Efficiency Master is installed onto your personal computer, you will discover an abrupt reboot of your personal computer. Afterwards, you may discover that you cannot run executable files, access Task Manager and other utilities, or simply run your browsers. Even though Windows AntiBreach Suite will try to convince you that this is caused by the allegedly running threats, including Backdoor.Win32.Rbot and Trojan-Dropper, there is no doubt that this is the doing of the malicious rogue. The scanner related to the infection is completely bogus and it cannot identify any real threats you actually need to delete. You certainly should not expect the malicious rogue to suggest its own removal.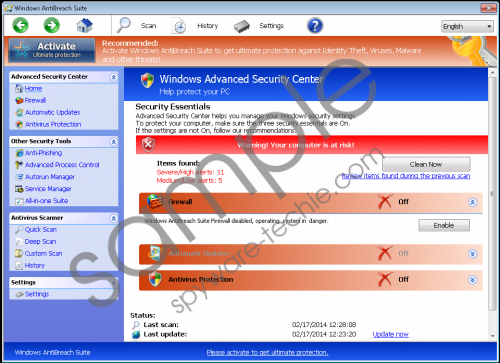 Windows AntiBreach Suite screenshot
Scroll down for full removal instructions
Even though malware researchers indicate Windows AntiBreach Suite as a threat which requires immediate removal, some computer users believe it to be a legitimate security tool. In order to create this illusion, the developers of the rogue can apply a highly misleading interface and modify the Windows Registry to release fictitious Task Bar notifications. We advise that you pay no attention to the information presented by the rogue and avoid the purchase page recommending Windows AntiBreach Suite's full version. This malware removal tool is bogus and wasting your money on it is completely unnecessary. In fact, making the payment will cause even more problems. You will need to delete the fictitious anti-spyware and you will need to contact your bank and make arrangements regarding the protection of your financial security.
You can use one of the license keys below to activate the full version of the clandestine rogue. This will prove to you that the allegedly authentic malware remover is fictitious without having to waste your savings.
License keys:
0W000-000B0-00T00-E0001
0W000-000B0-00T00-E0002
0W000-000B0-00T00-E0003
Once access to the web is restored you need to rush and install authentic security software to have the rogue deleted from the PC. If you cannot activate the full version of the rogue using the provided keys, we suggest following the instructions presented below. Are you thinking about manual Windows AntiBreach Suite removal? Then make sure that you delete all of the malicious rogue's components and remove other existing threats.
Remove the malicious rogue from Windows
Restart the computer, wait for BIOS to load and start tapping F8.
Use arrow keys to select Safe Mode with Command Prompt from the appeared menu and tap Enter.
Wait for the PC to reboot and navigate to the C:\Windows\system32\ line in the Command Prompt.
Type cd.. and tap Enter to call the C:\Windows line. Then type\explorer.exe and tap Enter again.
Open the Start menu from the Task Bar and click Run/Search.
Enter %appdata% into the box to access the Application Data folder.
Right-click the file svc-[random file name].exe and select Delete to get rid of it.
Restart the computer in the Normal Mode, open the Start menu and click Run/Search again.
Enter msconfig into the box and tap Enter to access the Windows Registry.
Follow the path HKEY_CURRECT_USER\Software\Microsoft\Windows NT\Current Version\Winlogon.
Right-click Shell, select Modify and enter %WinDir%\Explorer.exe as the Value. Click OK.
Launch the browser and go to http://www.spyware-techie.com/download-sph .
Download and install an automatic malware remover which will delete all existing computer threats.
In non-techie terms:
Windows AntiBreach Suite is a clandestine rogue which should not be running on your personal computer. The clandestine rogue can expose security vulnerabilities and aid other schemers' attacks. If you do not want your PC flooded with dangerous infections, we suggest that you delete the rogue as soon as possible. Use automatic malware removal software to have all existing threats deleted and the operating system guarded reliably.
Aliases: WindowsAntiBreachSuite.