Do you know what Windows Antibreach Module is?
Windows Antibreach Module is NOT a legitimate security tool. It is not a legitimate malware remover either. In fact, the fake AV cannot even scan your operating system or list real threats. These are the features of authentic security software, and Windows Antibreach Module is just a worthless piece of software which has been designed to fool you. If you do not realize that you need to delete Windows Antibreach Module as soon as it corrupts your operating system, schemers will take over your PC and push you into believing that Trojans, keyloggers, and viruses have been activated. Luckily, you do not need to worry about the removal of infections listed by the rogue. Unfortunately, you need to figure out a way to delete the rogue from your paralyzed system.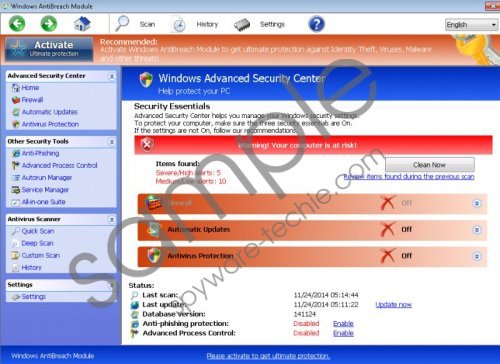 Windows Antibreach Module screenshot
Scroll down for full removal instructions
It may be difficult to figure out how Windows Antibreach Module has managed to infiltrate your operating system. The silent installer of the threat may be attached to a software bundle and you may execute it when opening a corrupted spam email attachment. There are plenty of social engineering scams that could be used to spread Windows Antibreach Module. Furthermore, schemers may employ more aggressive drive-by download attacks. When activated, the threat adds an auto-start entry and blocks executable files, so that you could not delete Windows Antibreach Module yourself or install automatic malware removal software. After this, the threat automatically initiates fake system scans and releases bogus pop-up alerts warning about the activity of malware. You do not need to worry about the removal of the presented threats, because they are bogus. Even if some threats are active, you cannot rely upon Windows Antibreach Module to delete them. Just like Windows Antivirus Adviser, Windows Web Shield, and other fake malware removers from the FakeVimes family, Windows Antibreach Module is fake all the way around.
If you have been tricked by Windows Antibreach Module already, you may have wasted your money on this bogus application. If you have, you should contact the bank and let them know about the scam. If it is not too late, you may be able to stop the transaction and get your money back. Note that even if you have purchased the full version of the bogus malware detection and removal tool, you still need to remove Windows Antibreach Module. If you cannot register as a legitimate Windows Antibreach Module user with a special activation code (0W000-000B0-00T00-E0011) and install legitimate malware removal software, you can use our guides below. Scroll down to find the removal instructions for Windows XP/Vista/7 users, and check the removal guides right below if you run a Windows 8 operating system.
Delete Windows Antibreach Module from Windows 8
Tap the Windows key to access the Metro UI menu.
Open the Charm Bar and click Settings.
Select Change PC Settings and click General.
Under Advanced Startup click Restart Now.
Select Troubleshoot and click Advanced Options.
Select Startup Settings, click Restart, and then F5.
Once the PC reboots, visit http://www.spyware-techie.com/spyhunter .
Click the Download button and install the automatic malware remover.
Delete all of the threats detected by the application.
In non-techie terms:
Windows Antibreach Module is a rogue anti-spyware which has the ability to corrupt your operating system and force you into purchasing a completely useless tool. Do not pay attention to the displayed alerts and do not follow the recommendations. Instead of wasting your time with the rogue, you should delete it. The manual Windows Antibreach Module removal is far too complicated, and so we suggest using automatic malware removal software. The guides below and above will help you delete Windows Antibreach Module in no time.