Do you know what Windows AntiBreach Helper is?
Windows AntiBreach Helper is a fraudulent computer program which looks like any computer security application. More specifically, it resembles Microsoft's applications; however, Microsoft has nothing to do with the bogus security tool. Windows AntiBreach Helper is identical to Windows AntiBreach Suite, Windows AntiBreach Tool, Windows Paramount Protection and many other fake anti-virus programs. The identical programs are budded Rogue.VirusDoctor or FakeVime, and if you are not sure whether to trust this application or not, take a look at some other reports on the predecessors of the application in question.
Once installed, Windows AntiBreach Helper reboots the computer. Moreover, it provides the user with a fake scanner and can display some misleading pop-up warnings, which should be disregarded because they contain no factual information about the operating system. If you are reading this report on another computer, it means that you have found that Windows AntiBreach Helper disables executable files, including Internet browsers. These changes are made to restrict your access to the Internet and make you think that the system is inoperable because of the dangerous infections listed in the scan result window.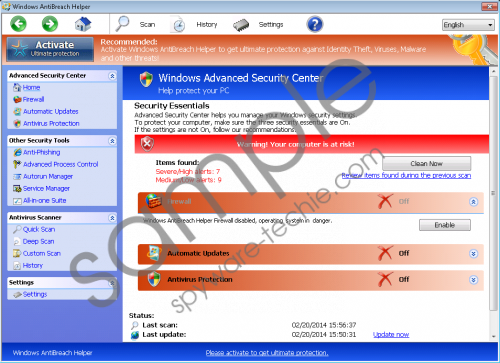 Windows AntiBreach Helper screenshot
Scroll down for full removal instructions
Windows AntiBreach Helper is a scam whose only goal is to obtain your money. If you fill out the purchase form, the criminals behind the fraudulent program get hold of your personal information. If you reveal you credit card number, its CVV number and personally identifiable information, the remote attackers may soon attempt to benefit from it. Do not risk your money but remove Windows AntiBreach Helper. This malicious anti-virus program cannot detect computer infections, so instead of spending from $49.95 to $99.9 on the useless application, invest in a legitimate and powerful anti-spyware tool which is capable of removing Windows AntiBreach Helper from the PC.
Although we advise you against purchasing the registration key, you can register the application to regain access to the Internet. There is no need to spend money on the registration because can find two activation keys below:
0W000-000B0-00T00-E0022
0W000-000B0-00T00-E0021
After registering the application, download and install SpyHunter, which can easily remove Windows AntiBreach Helper from the computer. This anti-spyware program can also protect the system from other rogue anti-virus programs, browser hijacker, Trojan horses, and many other threats. If you want to be sure that you can browse the Internet safely, do not hesitate to implement the recommended application.
In case you find the registration keys ineffective or you want to remove Windows AntiBreach Helper in another way, use the removal guide given below.
Remove Windows AntiBreach Helper
Reboot the computer.
When the BIOS splash screen loads, start tapping F8 key.
Select Safe Mode with Command Prompt and press Enter.
Next to the C:\Windows\system32\ line, type in cd.. and press Enter.
When another line appears, type in explorer.exe and press Enter.
Open the Start menu.
Type %appdata% into the search box and press Enter. On Windows XP, launch Run and enter %appdata% into the Open box. Click OK.
Delete the file svc-[ random file name].exe.
Restart the PC.
Open the Start menu.
Type regedit into the search box and press Enter. On Windows XP, launch Run, type in regedit and click OK.
Go to HKEY_CURRECT_USER\Software\Microsoft\Windows NT\Current Version\Winlogon.
Right-click on Shell and select Modify.
Change Value Data by typing in %WinDir%\Explorer.exe and click OK.
Close the Registry Editor and go to http://www.spyware-techie.com/download-sph to download SpyHunter. Install the application and scan the PC.
In non-techie terms:
Windows AntiBreach Helper is a dangerous computer infection which imitates system scans in order to scare you into thinking that your computer is infected. Its goal is to make you purchase its full version, which cannot remove any computer threats. In case you have Windows AntiBreach Helper on the PC, take immediate action to remove it.
Aliases: WindowsAntiBreachHelper.