Do you know what window web is?
Window web is one more invasive adware application that has been circulating on the web recently. Our reports show that numerous users get their systems infected with this adware program. Just like many of its counterparts window web is marketed as a useful tool that will help frequent online shoppers save money while shopping online. Ironically, window web will only disturb you with worthless adverts and pop-ups that consequently will make browsing the web a frustrating process to say the least. Remove window web as soon as possible if found present on your system.
It is well known that window web is a product of the SuperWeb LLC group which is infamous for developing other dubious applications like Fortunitas, Surftatic, Klip Pal, Zippy Zarp and quite a few others. Thus, it is not surprising that window web is distributed in virtually the same way as its counterparts.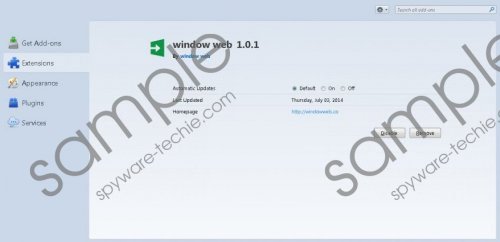 Window web screenshot
Scroll down for full removal instructions
In most cases, window web comes via a bundled installer. In order to avoid infecting your system in this manner refrain yourself from downloading software from dubious third-party download websites. Furthermore, avoid any website that might be associated with online piracy. Finally, our research team at Spyware-Techie.com advises you to install a professional antimalware tool in order to reduce the risk of infecting your PC in this or any other manner.
Once window web enters your operating system it will install browser extensions to Mozilla Firefox and Internet Explorer. These extensions are constantly interacting with numerous adware servers in order to display various third-party adverts and pop-ups while you are browsing the web. It is well known that adware servers are related to malware distribution. Thus, annoyance caused by window web is not the worst of its features. Some adverts could contain redirect links to potentially malicious websites that are filled with malware or are created to steal your sensitive data. For instance, you could be redirected to a website running an arbitrary code execution exploit meaning that just by landing on such a website your system will most likely get infected with some sort of unknown malware. The only way to stop these annoying and potentially detrimental activities is to remove window web without hesitation.
The removal process of window web is rather simple as uninstalling it via Control Panel will stop the potentially detrimental activities caused by this adware application. Unfortunately, in some cases traces of window web might still be present after manual removal and that is why we strongly advise you to analyze your system for any potential leftovers as they could also be used as a gateway into your operating system by other internet-based infections.
Remove window web from your PC
Remove window web from Windows 7 and Windows Vista
Tap the Windows+R keys simultaneously.
Now type Control Panel into the text box and click OK.
Select Uninstall a program.
Select window web and click Uninstall.
Remove window web from Windows 8
Move the mouse cursor to the bottom right corner of your screen.
Select Settings in the Charm bar.
Now click Control Panel.
Select Uninstall a program.
Now double-click window web to remove it.
Remove window web from Windows XP
Click the Start button and select Control Panel.
Now select Add or Remove Programs.
Select and remove window web.
In non-techie terms:
If you wish to maintain your operating system clean and secure, you must install a professional antimalware tool that will safeguard your system at all times. Furthermore, removal of window web is also essential for that same propose. If you think that manual removal might be too complicated, we provide instructions for automatic removal below.