Do you know what Win0rr02x012417ml.club is?
The fake security warnings associated with the Win0rr02x012417ml.club scam are meant to make you think that your operating system is at risk. The initial warning might suggest that malware active on your operating system can endanger your virtual and financial security, but no specific details are provided. The second warning – which shows up if you try to leave the page representing the first one – does not offer much explaining either. The reality is that the schemers behind these fake notifications cannot provide you with authentic or reliable information. Their goal is just to make you think that your virtual security is at risk and that you need to contact technicians. Needless to say, schemers are using this disguise to make you think that they can actually help you. Unfortunately, if you communicate with them, it is likely that your virtual security will be jeopardized further. Continue reading to learn about this, as well as how to delete Win0rr02x012417ml.club.
When we are discussing the removal of Win0rr02x012417ml.club, we are actually discussing the removal of malicious infections that might be active on your PC. Although some users might be redirected to the pages representing the scam (e.g., http://win0rr02x012417ml.club/index2.html) when they visit malicious websites, malware could be involved as well. In the latter case, the victim can be rerouted to the scam page again and again. Of course, one time might be enough to scam users. If you believe that the security notification is real, you might believe that calling the provided helpline number (e.g., 1-866-314-4893) is a good idea. Is it? Of course, it is not. In fact, calling this number can only lead to trouble. First and foremost, you could be charged for the call, despite it being promoted as a toll-free number. Second, real technicians do not answer the call. Instead, schemers are hiding behind, and their goal is to profit from you. For example, they might ask you to pay money for their services, which is always a red flag. You could also be tricked into installing software that allegedly can help "technicians" solve problems.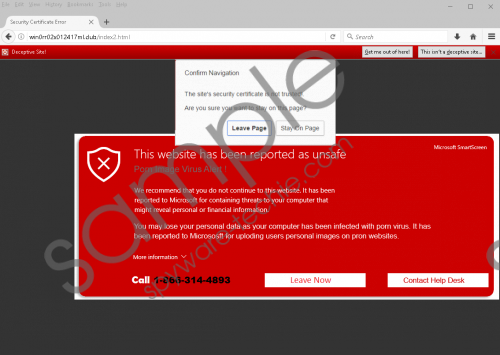 Win0rr02x012417ml.club screenshot
Scroll down for full removal instructions
You would make a big mistake by interacting with the Win0rr02x012417ml.club technicians because they could tick you into paying money for worthless services or possibly even letting in more malicious infections. Unfortunately, some users think that they have to follow the instructions because their browsers are paralyzed. When the initial warning comes up, you might click Leave Page or Leave Now buttons. If you do, a new notification (in blue background) might appear, and it might be represented in full-screen. Luckily, al single tap on the Esc button on keyboard should help you exit the full-screen alert. We have added this step to the instructions below to help you take full control of the browser. Keep in mind that different versions of the Win0rr02x012417ml.club scam could be introduced to you, and you might have to approach them in different ways.
The first thing you should do once you get rid of the fake Win0rr02x012417ml.club alert is to install a fee malware scanner that will automatically scan your operating system o determine whether or not you need to delete malicious infections. Hopefully, that is not the case, but if malware is found, install anti-malware software to have it eliminated automatically. The instructions below show how to reset browser, and we strongly recommend doing that if you encounter a malicious infection that directly affects your browsers. If you have questions about the removal of Win0rr02x012417ml.club, do not hesitate to add them to the comments section below and start a discussion.
Delete Win0rr02x012417ml.club from browsers
Internet Explorer
Click Esc or F11 if the fake alert has gone full-screen.
Restart the browser and tap Alt+T.
Select Internet options and then click the Advanced tab.
Click Reset, choose Delete personal settings, and click Reset again.
Perform a full system scan.
Google Chrome
Click Esc or F11 if the fake alert has gone full-screen.
Restart the browser and tap Alt+F.
Select Settings and then click Show advanced settings (at the bottom).
Click Reset settings (at the bottom) and then click Reset.
Perform a full system scan.
Mozilla Firefox
Click Esc or F11 if the fake alert has gone full-screen.
Restart the browser and tap Alt+H.
Select Troubleshooting Information.
Click Refresh Firefox and then click a button with the same title.
Perform a full system scan.
In non-techie terms:
If you are introduced to a security alert via Win0rr02x012417ml.club, there is no doubt that someone is trying to scam you. In this case, you should immediately exit the fake alert and initiate a full system scan. It is possible that malware will be found, in which case, you will need to delete it. If you decide to proceed manually, research the malware you need to eliminate to make sure that you succeed. If you are not ready to take on dangerous threats yourself, install anti-malware software to have them erased automatically. Keep it installed to ensure full-time protection.