Do you know what Win 8 Protection 2014 is?
There are numerous rogue antispyware applications circulating on the web, and Win 8 Protection 2014 is a newly crafted one. Reports show that a great deal of users get their operating systems infected with this malicious application. Win 8 Protection 2014 mimics a legitimate antispyware program; unfortunately, it does nothing what an authentic antispyware program would do. In fact, Win 8 Protection 2014 is a major virtual threat that must be removed if found on your computer. It affects Windows 8, Windows 7/Vista, and Windows XP.
The researched reveled that Win 8 Protection 2014 is named differently depending on a version of the operating system that it hits, for instance, XP Antivirus 2014, Vista Protection 2014, Win 7 Antispyware 2014, etc. Do not get fooled by different names as it is still the same malicious application. Malware experts at Spyware-Techie.com has prepared a removal guide that will help you delete Win 8 Protection 2014 completely; thus, restoring the normal functionality of your system.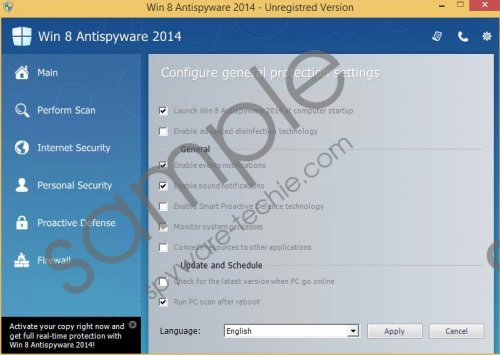 Win 8 Protection 2014 screenshot
Scroll down for full removal instructions
Win 8 Protection 2014 blocks certain applications on your operating system once it enters your PC. You will not be able to use instant messaging programs, web browsers, video or audio players, Task Manger, or Registry Editor. If you attempt to start them a message will be displayed telling you that that application is potentially dangerous and certain threats should be remove in order to use it. These messages are hoax, to put it mildly. You will not be able to use your PC normally until Win 8 Protection 2014 is removed.
Also, Win 8 Protection 2014 will scan your system for alleged threats. The scan results are bogus; unfortunately, unsuspecting users might be manipulated into paying for the removal of those fake threats. Do not, in any case, pay or provide your credit card details as it is extremely detrimental. The only threat that must be removed is Win 8 Protection 2014 itself as it could also be used by other internet-based infections as a gateway to your operating system. Removal of Win 8 Protection 2014 is paramount if you are keen on keeping your PC safe and clean.
The removal instructions prepared by our research team at Spyware-Techie.com are simple to use and should not be troublesome whatsoever. It is important to realize that the only way avoid Win 8 Protection 2014 or any other malicious application is to implement a professional antimalware tool that will provide real-time security. It is also crucial to practice safe browsing habits as it will also lower the risk rate of infecting your computer.
Remove Win 8 Protection 2014 from your PC
Go to the Start Screen.
Move the mouse cursor to the bottom left corner of the desktop.
Click Settings and then select Change PC Settings.
Now click General.
Under Advanced Startup click Restart Now.
Then select Troubleshoot and click Advanced Options.
Now click Startup Settings.
Click Restart and tap the F5 key to enable Safe Mode with Networking.
Now go to http://www.spyware-techie.com/download-sph.
Download and install the malware detection and removal tool.
Scan your system.
After the scan click Fix Threats to remove Win 8 Protection 2014.
In non-techie terms:
Do not get fooled by Win 8 Protection 2014 or any other rogue antispyware as it will only cause your PC damage. If you suspect an antispyware tool of being rogue please learn about it as much as possible and scan your system with a licensed antimalware tool.