Do you know what WikiZ is?
WikiZ is a questionable program that may show up on your desktop without your remembering to install it. This is mostly possible after you install free software that you have downloaded from a suspicious file-sharing website or unknowingly when you clicked on the wrong third-party content on a shady website. Although this program looks totally innocent, it may collect information about you and possible redirect you to questionable websites that would fit your "profile" as well as promote third parties, which is always risky content to click on. As a matter of fact, our researchers tested this program in our internal lab and concluded that this is a potentially unwanted program, or PUP. All this PUP does basically is show you Wikipedia search results that you can access straight from your desktop, i.e., without your having to launch your browsers. Well, we do not think that it is much more convenient or time-saving to launch a questionable application from the desktop or a shortcut link to the authentic Wikipedia page if you so want to broaden your mind and access that knowledge base. In fact, we suggest that you remove WikiZ from your computer along with all other questionable programs to restore your system security and keep it secure.
Although there is a slight chance that you actually want a desktop app that provides you with the ability to search Wikipedia right from your desktop and miraculously you end up on wikiz.timeapp-studio.com, the official page, we simply doubt that this could happen in thousands of cases. This promotional page is rather simple but you can easily download the installer and it may not even raise the red flag for your up-to-date security software if you have one installed. Nevertheless, it is more likely that you install this PUP unknowingly or not as your targeted app. This is possible when you install a software bundle; and, that will give you a good enough reason to want to delete WikiZ from your PC.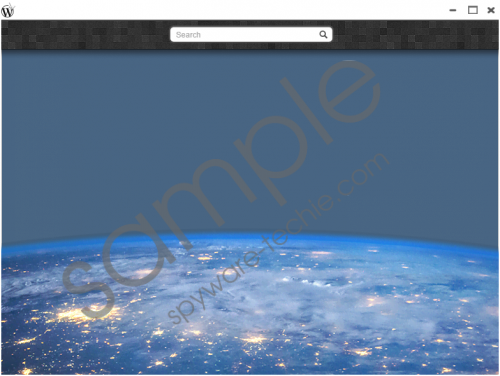 WikiZ screenshot
Scroll down for full removal instructions
Bundles are aplenty nowadays; in fact, it is hard to find standalone installers on the web. However, you need to understand the nature of bundles because not all of them are reliable to say the least. The truth is, today you would find that most of them are actually malicious; created by schemers to infect unsuspecting computer users with a number of PUPs and malicious software installers. If you are not cautious enough when installing such a bundle, you can easily end up with adware programs, browser hijackers, Trojans, fake alerts, and PUPs in one go. This is why we always say that it is essential that you avoid suspicious websites and clicking on third-party ads because these are the basic reasons why people infect their machine. Of course, it is also quite possible that your computer was already infected with adware and that is the reason why you were exposed to unsafe ads that resulted in your downloading further infections. All in all, we recommend that you scan your system with a reliable online malware scanner after you delete WikiZ.
This is a new application but certainly not the first one of its kind since we have found identical PUPs called DailyWiki and WikiThemes, which emerged previously. This PUP simply offers you a possibility to search Wikipedia right from your desktop. In fact, all your searches are redirected to en.wiki2.org. In this case, we did not notice modified search results, which is usually the case when such a search engine is provided. However, this application does not seem to promote third parties this way. Yet, you could be redirected to questionable websites and potentially unreliable third-party advertisements may also appear on your screen from time to time. We have also found that this PUP may collect personally identifiable information about you as well as data regarding your browsing habits. This information could be sold to or shared with third parties, which again is not very promising because this can always lead to deceptive advertising that may lure you to questionable websites that might be run by cyber criminals in order to scam you. No wonder why we think that you should probably remove WikiZ if you want order in your virtual world.
Yet another annoying thing about this PUP is that you cannot simply eliminate it by executing its uninstaller via Control Panel since it leaves behind a little mess that you need to take care of. We have prepared instructions for you below this article so that you can remove WikiZ without leftovers. Please follow these steps and get rid of this PUP for good. If you want to defend your computer against all kinds of threats that are out there waiting for you to let them in in a moment when you let your guards down, we suggest that you install a trustworthy piece of security software like SpyHunter as soon as possible.
Remove WikiZ from Windows
Windows XP
Open the Start menu and go to Control Panel.
Click Add or Remove Programs.
Select the uninstaller and press Remove.
Windows Vista/Windows 7
Open the Start menu and navigate to Control Panel.
Choose Uninstall a program.
Select the uninstaller and press Uninstall.
Windows 8/Windows 8.1/Windows 10
Press Win+R and enter control panel. Click OK.
Pick Uninstall a program.
Select the uninstaller and press Uninstall.
Remove leftovers
Press Win+R and enter regedit. Press OK.
Locate and delete "HKEY_CURRENT_USER\Software\AppDataLow\Software\WikiZ" registry value name.
Close the registry editor.
Press Win+E.
Delete the following folders:
%LOCALAPPDATA%\WikiZ
%UserProfile%\Local Settings\Application Data\WikiZ
Empty the Recycle Bin and restart your computer.
In non-techie terms:
WikiZ is a quite useless desktop program that may enter your system under deceptive circumstances. We cannot really claim that this program poses a direct threat to your computer and to your files, but it is still possible that it may redirect you to potentially unreliable websites or show you third-party ads here and there that could be, again, unreliable. All in all, our researchers concluded that this is a potentially unwanted program that may expose you to questionable content. Basically, this program provides you with a Wikipedia search feature straight from your desktop even though it claims no affiliation with Wikipedia or any of its services in any way. Since the appearance of this program may indicate that other questionable programs and even malware threats have also infiltrated your computer, we believe that it is best to remove WikiZ and then, all other potential and malicious threats as well. If you think it is time to protect your PC efficiently, you may want to install a professional anti-malware program.