Do you know what Wiki-search.me is?
Wiki-search.me is a partly useful Google Chrome browser extension whose other and more suspicious part may pose a threat to your virtual security. Therefore, its presence on your computer is rather undesirable. As a matter of fact, our researchers have categorized this infection as a browser hijacker since it has the capability of changing your browser settings. Namely, it changes your default search engine. While this malware only affects Google Chrome, no matter which browser is your preferred one because this browser hijacker may come bundled with other malicious programs, such as adware programs and potentially unwanted programs. Leaving these infections unattended may cause serious system security issues before long. According to our researchers, you should remove Wiki-search.me as soon as possible and run a full-system malware scan to identify other potential threats as well. In order to restore the previous security level of your operating system, you must eliminate all infections; otherwise, you will never be totally safe using your computer or going online.
This browser extension offers you a direct Wikipedia search capability, which you can activate right from the search/address bar of your Chrome browser by typing in "wiki" and hitting the Space or Tab keys. Then, the search bar turns into a special search mode and you can type in any search word. By pressing Enter, you will be redirected to a Wikipedia page that will be the result of your search query. So far, so good; we could say. However, this tool you can only use in Google Chrome. So what if you are a Mozilla Firefox user? Why would you want a tool on your computer that is this limited to only one browser?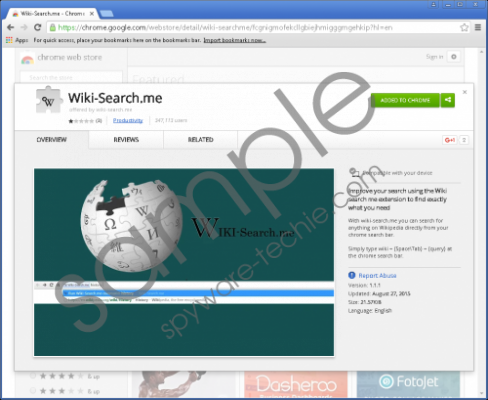 Wiki-search.me screenshot
Scroll down for full removal instructions
Of course, this is definitely not the biggest security issue this browser hijacker holds for your PC. As a matter of fact, the problematic part is actually the search engine it forces on you. Before you install this tool, you should read carefully what kind of permissions you are granting by hitting the "Add extension" button. This is the step that most inexperienced computer users tend to ignore in their rush. Here is what this tool can do if you press that button:
Read and change all your data on the websites you visit
Communicate with cooperating websites
Change your search settings to: feed.wiki-search.me
By granting these to this extension, it will be able to, for example, send information about you and your browsing habits to other websites. But the worst is the unreliable search engine it sets as default. If you use the browser's search bar and type in any queries and hit Enter, you will find yourself on a modified Yahoo search results page. This page may show you potentially dangerous links and advertisements, which are injected by this browser hijacker to promote affiliated websites. Obviously, the only way for this free tool to make money for its creators is to market third parties. The more of these promotional ads and links you click on, the more money they make. However, not only will you support potential schemers by this, but you will also be exposed to potentially unsafe web content. Therefore, we believe that you are better off removing Wiki-search.me from your computer.
At this point you may start wondering how this browser hijacker ended up on your computer. Well, it is possible that you installed it yourself from the Chrome web store. You can find this tool at this address: chrome.google.com/webstore/detail/wiki-searchme/fcgnigmofekcllgbiejhmigggmgehkip. And, if you spend one moment and check the Reviews tab instead of rushing to click on the Add to Chrome button, you may find something of interest there. Namely, a comment from a user, which can actually make you wonder about the reliability of this extension. The review starts as: "It's a spam virus extension…," which should be enough for a security-minded computer user to say "no" to this tool right away, or to make him want to do a quick research on the web to make sure.
However, this is not the only way in which this browser hijacker can enter your computer. Unfortunately for you, it may also arrive in software bundles that may contain other malware infections. This is definitely bad news because even if you delete Wiki-search.me from your Chrome browser, there will be several more threats on board that will also require your attention and immediate removal.
Finally, let us tell you how you can put an end to this malware invasion. If you want to manually remove Wiki-search.me, you can do that through your browser's Settings menu. If you are unfamiliar with browser setting changes, please follow our instructions. You can also try to identify the other threats by opening up the list of installed programs in Control Panel, or the list of extensions in your browsers. Then, you can use our search box at the top to search for the potential infections because we may have descriptions and instructions for those, too. But, if you do not want to hunt down each threat manually, we suggest that you use a reliable antimalware tool instead, not to mention that, unless you are an expert user, you may not be able to find more dangerous infections manually.
Wiki-search.me Removal from Browser
Google Chrome
Press Alt+F and select Settings.
Choose Extensions on the left.
Click on the unwanted extension and click on the trash can icon.
Press Remove.
In non-techie terms:
Wiki-search.me is a browser hijacker malware infection that changes your default search engine to feed.wiki-search.me, which is totally unreliable and can introduce you to potentially harmful third-party content. Since this browser extension can also arrive along with a number of other malware infections, we recommend that you remove Wiki-search.me and all other potential threats you may find. For best results it is worth using a professional antimalware application that not only will clean your system of all infections known today, but it will also safeguard your PC from future malware threats.