Do you know what Widthie is?
Our security analysts took a look at a recently emerged browser extension for Google Chrome called Widthie and have come to the conclusion that it is a potentially unwanted program that you might want to remove. It is advertised as some kind of browser enhancer, and its only function is to show you your computer screen's width. With a function like this, it is no wonder that it is potentially unwanted. However, there is more to this program than meets the eye. Our malware researchers say that it has the ability to collect information about you and use it for unknown purposes.
Widthie has been released by an entity that calls itself Melingo. And this entity has put Widthie up for download on the Chrome Web Store. As far as we know, this is this program's only means of distribution; hence, Widthie works only on Google Chrome. The user reviews on the Chrome Web Store are very negative. Some users claim that they did not get it from the aforementioned web store, so it is too early to say for sure what means its developers employ to disseminate this program. Our researchers suspect that it may be bundled with malicious software that is featured on shady freeware websites, or its download may be promoted via adware.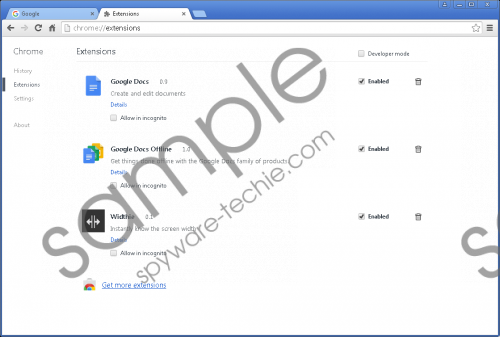 Widthie screenshot
Scroll down for full removal instructions
In any case, if you have downloaded Widthie from the web store, then you should see a bar at the top of your browser's window that shows the width of the screen. This function is absolutely ridiculous. There is no reason why you would want to see the width of your computer's screen the entire time. Yet this program has more than 1 million users around the world. Therefore, we think that it is very important to make the Internet community aware of the fact that Widthie is a useless piece of software.
Our malware researchers say that this program may be used to collect information about you. According to the Chrome Web Store, this program requires the permission to "Read and change all your data on the websites you visit." Therefore, we think that Widthie may gather information such as your approximate geographical location, IP address, browser settings, PC specifications, search history, browsing history, and maybe some other types of information. Obviously, this information is not used to improve the product. But the reasons for it are still unknown at this point.
If you think that Widthie is useful, then by all means keep it, but if you are a security-minded individual, then you might want to delete this program from Chrome. Information gathering is quite common among programs that have been classified as potentially unwanted programs. So Widthie fits right in. The Internet community is not happy with this program and thus it has very poor reviews. Therefore, we invite you to make use of the removal guide located in this article if you do not know how to remove an extension from Google Chrome.
How to delete Widthie from Google Chrome
Open the browser and simultaneously tap Alt+F.
Select More tools and go to Extensions.
Find Widthie and click the Remove button.
In non-techie terms:
Widthie is considered a potentially unwanted program and with good reason. It features the useless function of showing your computer screen's width on your web browser. But, most importantly, it may collect personally identifiable information about you that can be used for reasons yet to be revealed. So we suggest that you remove Widthie from your computer as soon as the opportunity arises.