Do you know what Widia Ransomware is?
Widia Ransomware is a malicious application that slightly differs from conventional ransomware infections demanding money. Even though it opens a window with a message on Desktop claiming that all users' files "have been encrypted with the strongest encryption and unique key" after infiltrating users' computers, the truth is that it does not encrypt any of them. This window locks Desktop and cannot be closed easily, so users cannot check whether their files have really been locked or not too. On top of that, the window placed on their screens does not allow them to access programs and use the computer normally. This is the main reason you should go to remove Widia Ransomware fully from your system. Some users might think that the easiest solution to the problem is entering credit card details and purchase the private key, but it is, without a doubt, the worst thing users can do. Actually, there is no point in doing that because Widia Ransomware will not be automatically removed from your PC when cyber criminals get money. Because of this, you should go to remove this infection from your system yourself instead of purchasing a private decryption key. Since your files have, most likely, not been encrypted by this threat and your screen will be unlocked when you remove Widia Ransomware, you will not need to do anything else after getting rid of this infection.
Although Widia Ransomware does not encrypt files, it is a typical ransomware infection because it sneaks onto computers, locks users' Desktops, and then tries to convince them that their files have all been locked. Also, users are told that only a private key can unlock them. They are given only 24 hours to purchase it. Cyber criminals behind this infection threaten to "eliminate the key after a time period specified in this window." As we have already told you, none of your personal files have been locked, so there is no point in submitting your credit card information in order to buy the key. Widia Ransomware will ask users to enter such details as a credit card number, holder name, expiration data, etc. If these details are provided, cyber criminals can take over the credit card and spend all users' money without permission. Therefore, you should go to remove this ransomware infection from your PC instead of providing this information. The screen-locking window will no longer be visible on Desktop after the full Widia Ransomware removal, so start the removal process today.
Widia Ransomware not only places a black screen-locking window on Desktop. Researcher carried out by our experienced team of specialists has revealed that it makes undesirable modifications on affected computers too. For example, it disables Task Manager and kills such processes as explorer.exe, regedit.exe, and taskmgr.exe belonging to important system utilities. These changes are made to make it harder for users to eliminate it, so you should not even expect that its removal will be easy. No matter how hard it is to get rid of ransomware-type infections, it is a must to remove them fully ASAP.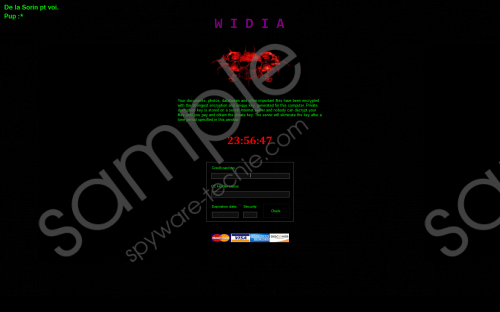 Widia Ransomware screenshot
Scroll down for full removal instructions
We do not have much information about the Widia Ransomware dissemination because this infection is not spread actively. Of course, our specialists still have a theory about its distribution. According to them, there is no doubt that cyber criminals use illegal methods of distribution to disseminate it. Cyber criminals might place it on P2P websites expecting that users will download this threat together with freeware. In addition, users might get spam emails with Widia Ransomware as an attachment. Most probably, you have already understood that you need to stay away from spam emails and download software from trustworthy pages only; however, these are not all pieces of advice we have for you. We highly recommend installing security software on your system as well.
Widia Ransomware needs to be erased from the system as soon as possible because its screen-locking window will not allow you to normally use your computer. Unfortunately, because of the presence of its presence, you could not easily delete this ransomware infection too. You will have to boot into Safe Mode the first thing and only then start the removal of this malicious application.
Remove Widia Ransomware
Boot info Safe Mode
Windows XP/7/Vista
Restart your computer.
Start tapping F8 when you see a BIOS screen.
Select Safe Mode from the Advanced Boot Options menu with arrow keys on your keyboard.
Press Enter.
Go to remove ransomware.
Windows 8/8.1/10
Tap two buttons: the Windows key and C on your keyboard and click Settings (if you use Windows 8/8.1) or click on the Start button (if you use Windows 10).
Click Power.
Hold the Shift key and click Restart.
Click Troubleshoot.
Click Advanced options.
Click Startup Settings.
Click on the Restart button.
Tap F4.
Go to remove ransomware when your PC starts in Safe Mode.
Delete Widia Ransomware
Open the Windows Explorer (tap Win+E).
Go to %WINDIR%.
Delete the following files: wd0w.exe, oops.rr, oobelx.dt, and *widia.exe (*-random symbols).
Close the Windows Explorer and open the Registry Editor (tap Win+R, enter regedit.exe in the box, and click OK).
Open HKCU\SOFTWARE\Microsoft\Windows\CurrentVersion\Policies\System and HKLM\SOFTWARE\Microsoft\Windows\CurrentVersion\Policies\System.
Fix the DisableTaskMgr Value in these two registry keys – right-click on the Value, select Modify, and change its Value data to 0 .
Change the Value data of the EnableLUA Value too (it can be found in registry keys mentioned in the 5th step). In this case, change the Value data to 1 .
Move to HKCU\Software\Microsoft\Windows\CurrentVersion\Run.
Find the Value .*widia (*-random symbols), right-click on it, and select Delete.
Close the Registry Editor.
Empty the Recycle bin and restart your computer.
In non-techie terms:
It does not mean that your computer is clean if you have performed all the removal steps from instructions above and erased ransomware fully from your computer. Ransomware infections might enter systems together with other untrustworthy applications too. They will work in the background without your permission if you do nothing. This might bring a bunch of problems, so we suggest that you perform a system scan using a reputable automatic tool too.