Do you know what Whoopsie Ransomware is?
Users usually discover that their files have been completely encrypted after the entrance of ransomware. Whoopsie Ransomware will lock your files completely if it ever slithers onto your computer as well. There is no doubt that this threat has been developed to extract money from users; however, it seems that it did not work properly at the time of analysis because it did not include the payment address for sending ransoms. Of course, it does not mean that you cannot encounter a new version of this malicious application. Do you see a payment address left for you? It does not mean that you should pay money to cyber criminals in this case. Actually, there is nothing clever about sending money to malicious software developers because they do not remove malware from affected computers. In the case of Whoopsie Ransomware, there are, unfortunately, no guarantees that cyber criminals will share the tool that can unlock files with you too.
All ransomware infections encrypt files on victims' computers, but we are sure Whoopsie Ransomware is the one that has locked your personal data if you have found a small red window opened on your Desktop. It does not contain much information. Victims are simply explained that their files have been encrypted with the AES encryption and only a special decryptor can unlock them. It can be purchased from cyber criminals for 50 EUR, but it was impossible to transfer the ransom at the time of writing – the payment address was missing. Users are also not allowed to close the window. If you are not going to purchase the decryptor, you can close this window fearlessly and then delete the ransomware infection from your computer. No matter you keep the window opened or close it, cyber criminals will not unlock any files for you for free. There are no guarantees that you will unlock your files by paying a ransom too, so you should not do that by any means. Cyber criminals often do not give users the promised decryption tool after they receive their money. Unfortunately, the free decryptor is not available too, which means that the only way to get files back for free is to restore them from a backup you have. That is not an option for you if you have never backed up any of your files in your life.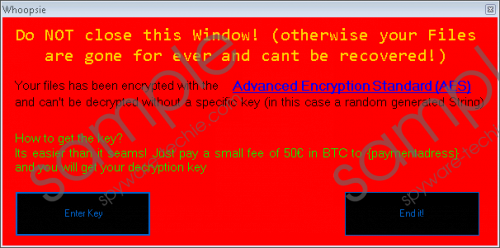 Whoopsie Ransomware screenshot
Scroll down for full removal instructions
The red window opened on your Desktop and a bunch of encrypted files with the .enc extension are two main signs showing that the entrance of Whoopsie Ransomware was successful. Specialists do not know much about the distribution of Whoopsie Ransomware, but they suspect that it is spread like similar threats. That is, it is spread via spam emails as an email attachment. It is very likely that it is also available on some kind of unreliable P2P website, specialists say, so be very careful if you download software from the web quite often. These pieces of advice do not always help to prevent malware from entering the system, so we also highly recommend that you install a security application on your computer. No harmful threats could enter your system illegally as long as you keep security software enabled.
You must remove Whoopsie Ransomware no matter it has encrypted valuable data on your PC or not because it is a harmful threat whose presence might result in more encrypted files. You will remove it by deleting the malicious file you have launched and key.txt, containing a unique user's ID, from your computer. Before you delete files that belong to ransomware, you might need to close the window opened by it on your Desktop. This can be done by killing the malicious process through Task Manager. Follow our removal guide if this does not tell you much.
Delete Whoopsie Ransomware
Launch Task Manager (tap Ctrl+Shift+Esc).
Click Processes.
Locate the malicious process and kill it.
Close Task Manager.
Remove key.txt dropped on your computer.
Remove the malicious file you have opened.
Empty Recycle Bin.
In non-techie terms:
You must delete Whoopsie Ransomware as soon as possible even if it has already locked data on your computer in order to prevent it from encrypting more files. It performs this malicious activity on victims' PCs because it wants their money, but you should not send a cent. It is not very likely that you will unlock a single file on your system by making a payment. You should fully erase the ransomware infection instead even if does not mean that encrypted data will be unlocked.