Do you know what Whizmarket Search is?
Whizmarket Search is a questionable search engine page that is created by the same team who is responsible for other potentially unwanted programs (PUP) like GoGameGo. This featured search website has also been labeled as a PUP by our researchers because it cannot really be called malicious or dangerous. Still, it is possible that indirectly it can put your system security at risk by the manipulated search results it may show you. Also, it is quite possible that this PUP comes on board along with malicious software installers that can cause more serious system security issues for you. Our researchers say that it is all up to you but if you want to be safe while using your computer or going online, you should remove Whizmarket Search from your computer along with all the rest of the threats that could be hiding on your system.
It is possible that you simply land on this search page (thewhizmarket.co/search) after clicking on unreliable third-party content (banner and pop-up ads, links, and fake notifications). One thing that can happen when you click on the wrong content is that you get redirected to a malicious website or, as in this case, to an unreliable search page. In this case it is quite easy to delete Whizmarket Search from your computer since all you need to do is close your browser window and restart your browser. Unless you click on a corrupt link or ad again that happens to redirect to this same search page, you should be free of this PUP.
But what if you click on such content and drop a whole software package onto your system? This bundle may contain other PUPs and even malicious software installers, including browser hijackers, Trojans, fake alerts, adware applications, backdoors, and so on. You can easily allow such a lot onto your computer if you are not cautious enough while installing this package. In fact, a lot of users become victims because of being hasty and not reading every window carefully in the installation wizard. If you read the license agreement and the notifications that may only be offered if you select the custom installation option, you should have a somewhat clear picture about the content of your bundle. So you could still decide which components to install or to cancel the whole process altogether. Some installers are quite pushy when it comes to certain browser setting changes, for example. It is possible that you cannot even install your targeted free program until you agree to install this PUP as well. We suggest that you be careful with such bundles and unless it is vital for you to install your target, we recommend that you look for another, safer tool. For now, it is important that you delete Whizmarket Search and run a deep scan with a proper online malware scanner you can trust.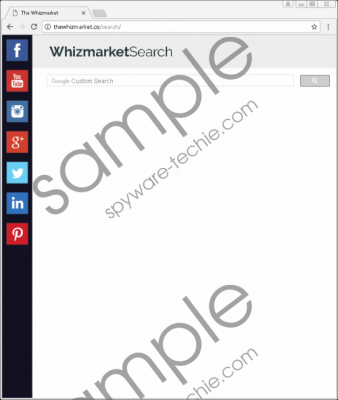 Whizmarket Search screenshot
Scroll down for full removal instructions
This search website features a vertical toolbar on the left side of your browser window. This toolbar presents to you thumbnail links to the most popular websites, including Facebook, YouTube, and LinkedIn. We have not found anything suspicious about these links but we must add that this PUP might be able to inject its own third-party ads into promoted sites where it is possible. You should never trust such ads if you do not want to drop further infections or land on malicious websites. Of course, the main feature is the search engine itself. But before we talk about it, we must also mention quickly the fact that there are no legal documents shared on this search engine page. This is rather suspicious and only happens when the creators have something to hide or they have some shady business going on. This is yet another reason for you not to trust this PUP at all; or, better yet, to want to remove Whizmarket Search. Although this PUP uses Google to display your search results, you should know that this is a customized Google page that could be manipulated by this search page to include its own affiliates' ads and links to promote them, i.e., to make money by generating web traffic to third-party websites. Since there is no guarantee that these third parties are all trustworthy, it is possible that you click on an ad or a link that actually comes from cyber criminals and as a result, you could end up on malicious websites or drop infections onto your computer. This is one of the main reasons why we suggest that you remove Whizmarket Search from your computer.
If you want to put an end to this PUP and its potential threats, we recommend that you use our guide below this article that explains how you can change the home page settings in the possibly affected browsers, including Google Chrome, Mozilla Firefox, and Internet Explorer. It is really not too complicated to accomplish this even if you are not an experienced computer user. But it is possible that you want to apply a more convenient and more effective method than manually hunting down PUPs and other more serious threats. Therefore, we advise you to install a professional malware removal application, such as SpyHunter. Such a security program can automatically defend your PC from all known malware infections and more.
How to remove Whizmarket Search from browsers
Mozilla Firefox
Press Alt+T to open the Tools menu.
Go to Options.
In the General panel, click the Restore to Default button.
Google Chrome
Press Alt+F to open the menu.
Navigate to Settings.
Under On Startup, select Open a specific page or set of pages.
Click Set pages and enter a new homepage URL address.
Remove the unwanted homepage URL address.
Click OK.
Internet Explorer
Press Alt+T to open the Tools menu.
Open Internet options.
On the General tab, press the Use default button.
Press OK.
In non-techie terms:
Whizmarket Search is a new potential threat that can appear in your browsers when you click on the wrong content and get redirected to thewhizmarket.co/search or when you install a questionable free software bundle. This potentially unwanted program that is responsible for installing this search page as your home page in your browsers can show you modified search results that might put your virtual security at risk. Another security-related issues regarding this questionable search page is that it may enter your system along with malware infections that can really make your PC more vulnerable. If you want to feel secure in your virtual world, we recommend that you remove Whizmarket Search from your computer. The manual protection of your PC could exceed your IT skills; therefore, we suggest that you start using a trustworthy anti-malware program to safeguard your system.