Do you know what Whiterose Ransomware is?
Whiterose Ransomware is a highly dangerous threat you would not wish to encounter. As our computer security specialists report, the malware is capable of not only encrypting almost all data located on the infected computer but also it can delete all shadow copies. No doubt, the reason for doing this is to make the user pay for decryption tools that could decrypt his damaged data. However, keep it in mind, in exchange the cybercriminals behind Whiterose Ransomware will ask you to pay a ransom and by transferring it, you would be taking a huge risk. There is a possibility the hackers might not be willing to hold on to their promises; not to mention they could keep demanding for more money. Therefore, instead of wasting your savings for decryption tools you may never obtain we recommend searching for other ways to recover encrypted files. For more information about the malicious application and what to do if it enters the system, you should keep reading the article. Those who encounter the malware should also check the removal guide available below.
Our computer security specialists report Whiterose Ransomware could be distributed through unsecured RDP (Remote Desktop Protocol) connections. Nonetheless, it is possible it might reach its victims through malicious email attachments or infected software installers as well. One way or the other, it means the only way to avoid such a threat is to strengthen the system and stay away from the potentially malicious content. If you do not have a reputable antimalware tool yet, we recommend acquiring it. Plus, do not forget to update outdated software or your operating system to eliminate possible vulnerabilities. Needless to say, it would be wiser to exchange unreliable file-sharing web pages with legitimate sites you could trust, and if you receive any suspicious email attachments, it would be best to either avoid opening them or scan such data with the antimalware tool you choose.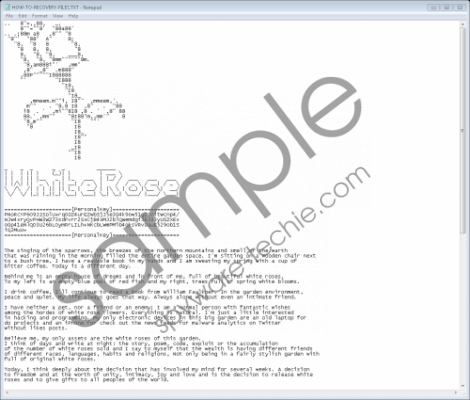 Whiterose Ransomware screenshot
Scroll down for full removal instructions
In case, Whiterose Ransomware manages to enter the system it should encrypt all data except the files located in the Windows, Program Files, $Recycle.Bin, and Microsoft folders. It seems each damaged file might also get a second extension consisting of 16 random characters and words "ENCRYPTED_BY.WHITEROSE," for example, kittens.jpg.2lPcILvVdKW8KjaP_ENCRYPTED_BY.WHITEROSE. The next malware's tasks is to delete all shadow copies so you could not use them to recover encrypted files. Lastly, the malicious application should show a long ransom note. In it, the cybercriminals behind Whiterose Ransomware tell a particular story and claim they want to gift the world with white roses. From the last part of the instructions, it becomes clear the white rose stands for decryption tools and instead of being a gift it is something the user is promised if he pays a particular price or a ransom to be more exact.
Even if the hackers who created this malware promise to deliver you decryption tools as soon as you pay the ransom do not forget these are only promises and can be broken. In other words, the infection's developers could take your money and still not help you. This is why instead of risking your savings we recommend using backup copies you might have on cloud storage or removable media devices. Also, there are cases when volunteering IT specialists manage to create decryption tools, so it might be worth to search the Internet and check if a free decryption tool for Whiterose Ransomware has been created yet, but make sure it comes from a reliable web page and reputable IT specialists. Before placing any new data or recovering encrypted files users are advised to get rid of the malicious application. This you can do either with a reputable antimalware tool or by following the removal guide available at the end of the text.
Erase Whiterose Ransomware
Click Ctrl+Alt+Delete simultaneously.
Pick Task Manager.
Take a look at the Processes tab.
Locate a process related to the malicious program.
Select this process and press the End Task button.
Click Windows Key+E.
Navigate to the suggested paths:
%TEMP%
%USERPROFILE%Desktop
%USERPROFILE%Downloads
Find a file that was opened when the system got infected.
Right-click the malicious file and select Delete.
Locate the threat's ransom notes and erase them too.
Leave File Explorer.
Restart the computer.
In non-techie terms:
Whiterose Ransomware is a malicious file-encrypting threat that may damage all your personal files without you even noticing it. The malware enters the system without any permission and works silently in the background until it is time to show a ransom note. The ransom note is a long text containing a small story about the cybercriminals behind this malicious application and instructions on how to contact these people and pay the ransom. The price is unmentioned, and it is possibly different to each user. As explained previously in this text there are no guarantees the hackers will keep up to their word and decrypt your files, which is why we recommend not to risk your savings and get rid of the malware instead. More experienced users could eliminate it manually by following the removal guide available a bit above this paragraph, while less experienced users could employ a reputable antimalware tool and let it deal with the infection for them.