Do you know what Whaatnext.com is?
Whaatnext.com is a potentially dangerous search engine that has been categorized as a browser hijacker by our researchers due to its capability to alter certain browser settings. This hijacker can set your home page and new tab page settings in both Mozilla Firefox and Google Chrome. Right now this malware does not seem to affect Internet Explorer for some reason, but it does not mean that Explorer users are fully safe from this infection since it might hit them, too, in the future. There are several virtual security issues when it comes to this browser hijacker. If you understand these risks, you have a chance to protect your computer from similar threats. Right now the most important thing for you to do is to remove Whaatnext.com from your computer so that you do not possibly cause more issues by being exposed to this unreliable search engine. Please read our full report to understand more about this infection and how it is possible to avoid similar threats.
According to our researchers, there is no promotional website where you could find a standalone installer for this search engine apart from the Chrome web store. You can find this browser extension at this URL: chrome.google.com/webstore/detail/search-whaat-next/fmnjcabccmpfkplnpnkhnmhlaodgdpad. But reports show that, unfortunately, this hijacker is mainly distributed in software bundles packed with malicious software installers. This usually means that if you download and install such a bundle, chances are your computer is under attack by a number of malware infections. It is possible that you have already been annoyed by potentially unreliable third-party advertisements, such as banners and pop-ups while you were browsing the web. These may be the result of adware applications, browser hijackers, and even potentially unwanted programs.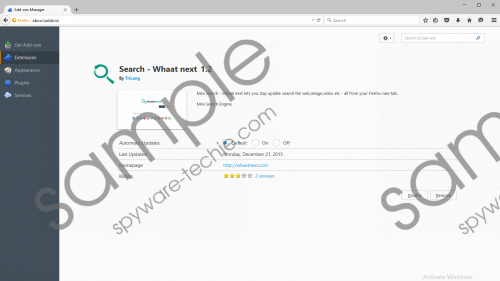 Whaatnext.com screenshot
Scroll down for full removal instructions
It is essential to understand that these bundles are usually hosted on suspicious file-sharing websites and on pages with pornographic content. These sites provide surface for a great number of third-party ads, but these ads cannot and should not be trusted at all. While some of them simply redirect you to a promoted innocent website selling legitimate products, some may lead to malicious websites where you may get scammed by criminals. That is why our researchers advise you to stay clean away from such sites and try also not to click on any advertisement. As a matter of fact, if there is an adware program on your computer, you would not be safe to even click on legitimate-looking advertisements on reputable websites, because this malware can hijack those ads and redirect you to corrupted websites.
It is possible to opt out of the installation of unwanted components of a bundle if you are careful during the installation process. The content is usually revealed and you can untick the designated checkboxes. However, it is also possible that you will only see these if you go for the Custom or Advanced installation option. If you have visited questionable websites recently and downloaded free software or other tools, you should delete Whaatnext.com right now and scan your system for other potential threats as well.
This search engine is hosted at 104.18.46.60 IP address, which is located in Phoenix, Arizona (USA) and registered through Godaddy.com, LLC (a popular hosting company). We advise you to always double-check and web search all the tools and applications you want to install onto your machine in order to be able to filter out harmful ones if you do not have proper protection, such as a security tool, installed. You can easily check Chrome extensions, for example, because all of them have unique IDs, which may look like a random string but they are not. In this case, this browser hijacker operates through an extension with this ID fmnjcabccmpfkplnpnkhnmhlaodgdpad. You will find this code in the extension list if you open it in your browser settings and tick the "Developer mode" checkbox. You will also find this code at %LOCALAPPDATA%\Google\Chrome\User Data\Default\Extensions\fmnjcabccmpfkplnpnkhnmhlaodgdpad directory. If you Google this code, you can always check if it is a legitimate extension at all. If you Google its name "Search - Whaat next," you may not have desired search results since a lot of tools have very general names. Of course, you may simply find results linking to the Chrome web store, but sometimes it is also possible to find articles that will be about your query being a malware infection and how you can remove it. That would be great help in your endeavor to protect your computer and avoid installing such a threat.
You should not keep this browser hijacker on board because every time you launch your browsers or click for a new tab page, it will introduce you to potentially harmful and misleading third-party content. For example, at the bottom, it may display a banner that looks like an alert message labeled "Login – error" and saying "You need to create an account. Please sign-up." This ad has two close buttons (X) but only one of them is real; the other one is fake. If you click on the fake "X," you will be redirected to a potentially unsafe website, such as flix247.com/registration?&theme=m-2-panther&chan=&pubid=176681&sid=&a_bid=&a_aid=51ccedn87de7&data1=&prgid=152873&cpnid=1208753&clickid=20XLD50JlnmoqiDu1BSrV.1AiTjL000.&subid=&page=onepage&g=39a9bdce0e5e35fc73365aa0f3f26923&&ref=1452583477. This site has obviously nothing to do with searching the web, but, instead, it is a promoted affiliate.
Furthermore, this unreliable search page has several more of similarly misleading third-party ads and a search tool that is capable of displaying modified Google search results pages. We advise you to never use this tool for searching the web because you may put your computer at risk by clicking on any links or ads shown on the results pages. There is only one thing you should do with this useless browser hijacker: You should remove it as soon as you notice it in your browsers.
There are a few ways you can go about eliminating this threat. You can simply remove the extensions from your browsers or you can manually delete the folders and files it creates. If you need help with these processes, please refer to our step-by-step guide below. However, if you are looking for something powerful that can save you from the unnecessary battles against malware, we recommend that you try a professional antimalware application, such as SpyHunter.
Whaatnext.com removal from browsers
Mozilla Firefox
Tap Alt+T and select Add-ons.
Choose Extensions in the left panel.
Click on the unwanted extension and click Remove.
Google Chrome
Tap Alt+F and select More Tools.
Choose Extensions.
Click on the unwanted extension and click on the trash can icon on the right.
Press Remove in the pop-up.
Internet Explorer
Tap Alt+T and select Manage add-ons.
Choose Toolbars and Extensions in the left panel.
Click on the unwanted add-on and disable/remove it.
Press Close.
Remove files and folders manually
Tap Win+E.
Type in %LOCALAPPDATA%\Google\Chrome\User Data\Default\Extensions\fmnjcabccmpfkplnpnkhnmhlaodgdpad in the address bar and press Enter.
Delete the folder.
Type in %UserProfile%\Local Settings\Application Data\Google\Chrome\User Data\Default\Extensions\fmnjcabccmpfkplnpnkhnmhlaodgdpad in the address bar and press Enter.
Delete the folder.
Find and remove the .xpi file that looks similar to jid1-e7w0SHT82Gv9qA@jetpack.xpi in the %AppData%\Mozilla\Firefox\Profiles\36iwse76.default\extensions folder.
In non-techie terms:
Whaatnext.com is an annoying and potentially harmful browser hijacker that can expose you to unreliable third-party web content, which may cause more system security issues than you already have. Not only can you not trust the third-party advertisements you find on its main page, but the search results it displays may also be corrupted and manipulated to show third-party ads and sponsored links of affiliated websites. Clicking on any of these may redirect you to unsafe websites operated by cyber criminals. In order to avoid being scammed by schemers, we suggest that you remove Whaatnext.com as soon as possible. Since there may be other malware infections as well that are threatening your virtual security, we recommend that you use a professional antimalware program to effectively and automatically clean and protect your PC.