Do you know what WeekApp is?
WeekApp is a cross-browser add-on which enables you to search for recommended apps for your mobile device. The browser add-on is compatible with Internet Explorer, Google Chrome, and Mozilla Firefox, and is accessible at weekapp.net. The program is distributed by the InstalleRex-WebPick installer and is built on the JustPlug.it engine, which is popular among browser add-on developers. Moreover, like the adware programs TubeadBlocker and Websaver, WeekApp can randomize its name. It may add some more unnecessary letters to the name; as a result, instead of WeekApp you may find WeekaPp or WeeKappp.
The seemingly useful browser add-on is categorized as adware because it is sponsored by third-parties, which are not affiliated with WeekApp. When using the WeekApp browser add-on, you may find some third-party offers. Those third-party websites have separate privacy policies, which you should review before downloading software or placing orders. WeekApp is not liable for the content delivered to your browsers, which implies that your interaction with different advertisements and websites is your responsibility. If you have no intention of using the WeekApp browser add-on, simply remove it from the computer as soon as you can.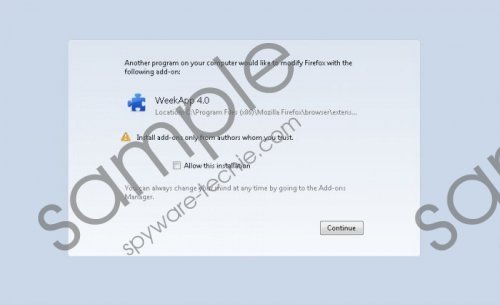 WeekApp screenshot
Scroll down for full removal instructions
The WeekApp browser add-on can display coupons, deals, special offers, and other pop-ups. The program is designed to recognize commercial websites and browse for special offers. Bear in mind that WeekApp uses browser cookies to monitor your online behavior so that information about your browsing habit can be obtained and used to enhance the service and your online experience. The information acquired may be shared with third-parties for the purpose of displaying targeted advertisements. Note that sometimes the browser add-on may record personally identifiable information, including information from social networking websites.
If you are concerned about the infiltration of this adware program, it is worth noting that the InstalleRex-WebPick installer can be used to distribute unreliable software, which is usually disguised as updates for Internet browsers, Flash players, and other software programs. Computer users are exposed to such installers upon clicking on advertisements which encourage them to install the latest version of a browser or some player. If you want to be secure from wicked cyber criminals, do not trust pop-up warnings displayed by adware programs or on suspect websites. Keep the operating system up-to-date and use a reputable spyware prevention program.
Our team recommends using SpyHunter because this spyware and malware removal program can eliminate WeekApp in no time and safeguard the operating system against various types of malicious programs. In case you are determined to get rid of WeekApp manually, use the following removal instructions but do not forget to scan the system afterwards.
How to remove WeekApp
Windows Vista and Windows 7
Click Start.
Select Control Panel.
Click Uninstall a program.
Remove WeekApp.
Windows XP
Open the Start menu.
Select the Control Panel option.
Click Add or Remove Programs.
Uninstall WeekApp.
Windows 8
Press Win+R and enter control panel.
Click OK.
Select Uninstall a program.
Uninstall WeekApp.
In non-techie terms:
WeekApp is an adware program, and you should remove it from the computer if you want to prevent annoying ads. As has already been mentioned, it is advisable to use a spyware removal tool. If you do not know how to install the recommended program, follow the below given instructions.