Do you know what Webstarts.biz is?
Our researchers confirm that Webstarts.biz might be a new browser hijacker from the creators of such threats as esurf.biz, safesurfs.com, etc. Same as its previous clones the application could hijack user's browser and replace his default homepage. What's more, if you use this search engine you might encounter questionable third-party advertisements. In other words, some of the displayed ads could redirect users to malicious web pages. Naturally, the advertisements may look tempting, but we would advise you to stay away from such content as much as possible or better yet get rid of the browser hijacker along with its potentially dangerous content. If you have no idea how to do this, have a look at the removal guide below.
The research showed that Webstarts.biz could be downloaded with suspicious installers from unreliable file-sharing web pages. If this is how the browser hijacker appeared on your system, you should find a safer source to download software. We always advise our readers not to trust file-sharing websites and instead get their desired programs from official developers' web pages. Of course, even dangerous applications can have their official sites, so it is important to pay attention to the company which developed the program as well.
Webstarts.biz and other browser hijackers from this family (e.g. foryourweb.net) use a particular method to settle on user's computer. Apparently, instead of placing any data on the system or altering specific files, the software targets browser's shortcut and modifies the target line within it. Thus, you may try to replace the homepage through browser settings, and it will still load Webstarts.biz. The modified target line is hard to notice, especially if you are facing such threat for the first time and have no idea about this method. The application might do this to Internet Explorer, Mozilla Firefox, and Google Chrome.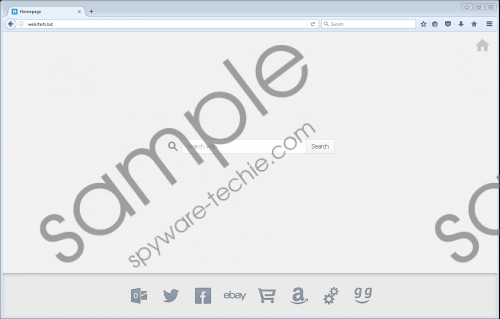 Webstarts.biz screenshot
Scroll down for full removal instructions
The search engine might not look harmful, but while using it, you could come across suspicious content. Usually, browser hijackers are created to generate advertising revenue from users' clicks. This application is probably no different since it could show you modified search results. They might be injected with the software's third-party partner's advertisements. Unfortunately, these ads may come from unreliable web pages, and the promoted content could be suspicious as well. For example, it might offer you to install adware, potentially unwanted programs, or other hijackers. In some cases, the ads may even lead to web pages with malicious programs, e.g. viruses, ransomware, and so on.
Clearly, Webstarts.biz is not a tool you should be using if you care about the computer's safety. Thus, our advice to you would be to eliminate the threat before anything bad happens. Since the application hijacks the browser while making small modifications to the shortcut's target line, it should not be too difficult to get rid of it manually. If you doubt your skills, simply take a look at the removal guide available below before you decide anything.
Users who do not want to erase the threat manually could use a reliable antimalware software. In fact, this option might be the best choice, since by installing an antimalware tool you could not only delete the browser hijacker but also clean the computer from other possible threats. Plus, you would have a useful tool that could help you keep the system protected from various questionable applications and malicious programs too. Also, we should mention that you can leave us a comment below or write us a message through social media if there is anything else yo would like to ask about Webstarts.biz.
Erase Webstarts.biz from your browsers
Right-click your browser's shortcut and choose Properties to access the Shortcut tab.
Find the Target line and look for Webstarts.biz link at the end of the line (e.g. it could look like this: "C:\Program Files (x86)\Mozilla Firefox\firefox.exe" "Webstarts.biz").
Delete the browser hijacker's link (Webstarts.biz) and press OK.
In non-techie terms:
Webstarts.biz is a suspicious application that can hijack major browsers by modifying their shortcuts' target lines. As a result, users might find it difficult to restore their default home pages. If you are having a hard time while getting rid of the software as well, we can offer you a couple of solutions to eliminate it. For instance, you could use the removal give placed above to deal with it manually. Another option is to use a reliable antimalware tool of your choice.