Do you know what Websrch.net is?
Websrch.net may look like an innocent search engine to you, but our researchers have found that it may pose a threat to you if you find it in your browser and happen to use it, too. This search engine may show up in your browsers after a browser hijacker sneaks onto your PC and changes your browser settings. It is possible that this search engine appears in your major browsers, including Internet Explorer, Google Chrome, and Mozilla Firefox. But when you find it as your home page, new tab page, and default search engine, it could also be a sign that other malware infection have managed to slither onto your system as well. Since you cannot really trust this search engine, we do not think that it is a good idea to use it or keep it in your browsers. This is why we recommend that you remove Websrch.net as soon as possible and take care of all other threats as well. Please continue reading our report if you would like to know more about this search engine and how it can end up in your browsers without your knowledge or remembering it.
The most likely way to install this search engine is to click on the wrong content. This can be an unsafe third-party ad, a corrupted link, which can both end in directly installing this search engine in your browsers. You can be presented with such unreliable content when you are browsing the web and land on suspicious websites that are usually related to file-sharing, online gaming, betting, and porn. These pages are infamous for hosting deceiving content as well as an annoying number of all kinds of third-party advertisements. One click and you can install this search engine directly; however, it can be worse. It is possible that you drop a whole bundle of malware threats instead of just one. You do not even need to click on shady ads to do so because when you download free software or cracked files from unfamiliar and suspicious file-sharing pages, chances are you are going to be surprised to find several malware infections and potentially unwanted programs in the package.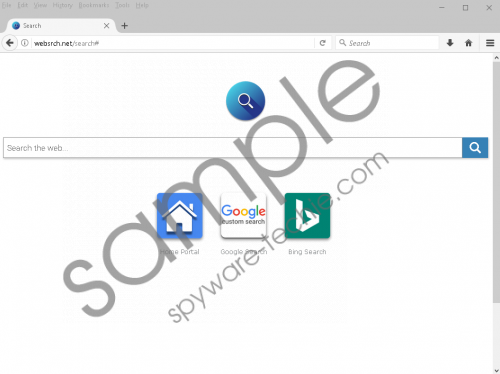 Websrch.net screenshot
Scroll down for full removal instructions
However, most unsuspecting computer users tend to select the quick installation options and ignore the license agreement as well so they may easily end up with a couple of malware threats, including adware programs, browser hijackers, fake alerts, Trojans, backdoors, and more. This is why it is always important to choose the custom option and read each installation screen carefully to find the checkboxes related to browser setting changes and addition of extra tools. Since it is also possible that your computer is infected and unreliable third-party ads are presented to you by adware and not necessarily suspicious websites, it is always important to make sure that your system is free of such threats. So after you delete Websrch.net from your computer, you should run a reliable online malware scanner to detect all other threats, too.
This search engine looks quite normal at first sight even though it has probably the longest search field we have ever seen, reaching from one side of the browser window to the other. Below the search field you can find three buttons that redirect to the developer's respective page. If you click on the Home Portal button, you will find yourself on a possible unreliable page, portal.airfind.com, filled with sponsored content like news pieces and so on. If you choose to click on Google custom search, you will be taken to portal.airfind.com/google-cse. The last button, Bing Search, will also redirect you to a dedicated URL on this website, portal.airfind.com/search?provider=bing&s=b. All the possible results are filled with a lot of sponsored advertisements and links, which could contain unreliable third-party content; therefore, clicking on them could be risky. You may infect your computer with malware programs or end up on new tabs loaded with malicious websites. If you do not want to cause further virtual security problems for your PC, it is important that you remove Websrch.net.
Our researchers say that it is possible that this search engine is pushed and it is installed in an aggressive manner, i.e., your Target lines for the browser shortcuts might be altered to include this search engine. This is why we think that it is an important first step to check these Target lines whether they are intact or not. Then, you can move on and reset your affected browsers. Please follow our guide below if you are ready to eliminate this threat source manually. Since protecting your system against malicious attacks should be the priority if you want to feel safe in your virtual world, we advise you to start using a reliable anti-malware program like SpyHunter.
Restore your Target lines
Right-click on your browser shortcut on your desktop.
Open the Properties option and go to the General tab.
Deselect the Read-only checkbox if it is checked.
Move on to the Shortcut tab.
Delete everything in the Target line after the quote.
Click OK.
Right-click on the shortcut on your Taskbar.
Right-click on the browser name option at the bottom.
Repeat steps 2 to 6 to restore the Target line.
Remove Websrch.net from your browsers
Google Chrome
Tap Alt+F and select Settings.
At the bottom, click Advanced.
At the bottom, click Reset.
Click Reset in the pop-up.
Mozilla Firefox
Tap Alt+H and select Troubleshooting Information.
Click Refresh Firefox and then, click Refresh Firefox again.
Internet Explorer
Tap Alt+T and choose Internet Options.
On the Advanced tab, press Reset.
Mark Delete personal settings.
Click Reset.
Press Close.
In non-techie terms:
Websrch.net is a questionable search engine that may present to you modified search results possibly containing potentially unreliable third-party ads and other sponsored content that may cause virtual security threats. Clicking on unsafe ads or links may infect your system with malware threats or you could also be redirected to malicious websites run by cyber crooks, which is one way to get scammed online and lose money from your bank account. Since such a search engine could be installed by a browser hijacker, it also means that there could be multiple malware threats on your computer right now. This is why we suggest that you remove Websrch.net right now along with all other possible threats. If you want to keep your PC safe, we recommend that you install a reliable anti-malware program as soon as possible.