Do you know what websearch.wonderfulsearches.info is?
If the home page of your Internet Explorer, Google Chrome, and Mozilla Firefox is changed to websearch.wonderfulsearches.info, it means you have recently installed some freeware bundled with a browser hijacker. The search engine websearch.wonderfulsearches.info gets on the computer and changes the home page and default search provider after launching the installer that supposedly promotes updates for Java or the Flash Player. It is crucial to pay close attention to every page displayed by the installation wizard so that you get a chance to decline the installation of additional programs or prevent unwanted changes within your browsers.
You can access questionable software installers when browsing insecure websites or upon clicking some pop-up advertisements; hence, you should either avoid visiting insecure websites or provide the computer with professional protection against malware and spyware. The recommend that you choose the second variant because you do not want to get the computer affected my malware programs.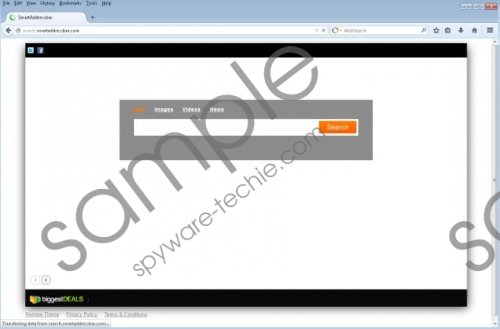 Websearch.wonderfulsearches.info screenshot
Scroll down for full removal instructions
When the unwanted changes are made within the browsers, you will find that the Internet browsers contain different extensions. The browser hijacker installs a browser extension to Internet Explorer and Mozilla Firefox, and the names of the extensions may vary, including MySearch 2.1, SearchNewTab or SNT. Note that the names of the extension may be randomized, i.e. they may contain some additional letters, some of which are capitalized. For example, you may encounter SearCHNewwTab, SNNT, SeeArch—NewTaab, and some other variantions.
The search engine websearch.wonderfulsearches.info is familiar to us because there are many identical search providers. For example, search engines such websearch.webisawsome.info, websearch.toolksearchbook.info, and websearch.searchissimple.info are distributed in the same way as websearch.wonderfulsearches.info, and we strongly recommend that you pay close attention to your online privacy.
The search engine websearch.wonderfulsearches.info should be removed from the computer because it records your online behavior, and the information collected may be shared with third-parties. Moreover, it is important to note that the search engine redirects computer users to search.smartaddressbar.com/index.php, which suggests that the search engine does not provide users with unique search results.
Below you will find our instructions that should help you remove websearch.wonderfulsearches.info from the computer; however, you should keep in mind that in some cases the browser hijacker may not add its uninstaller to Control Panel, which is why we recommend that you rely on a reputable spyware and malware removal tool. Our team advises you to use SpyHunter because this security tool can easily fix your browser extensions and safeguard the system against multiple computer threats.
How to remove websearch.wonderfulsearches.info
Windows Vista and Windows 7
Open the Start menu.
Click Control Panel.
Select Uninstall a program.
Remove SearchNewTab.
Windows XP
Click Start.
Select Control Panel.
Click Add or Remove Programs.
Uninstall the unwanted program.
Windows 8
Move the mouse pointer to the lower-left corner of the screen.
Right-click.
Select Control Panel and remove the program associated with websearch.wonderfulsearches.info.
Remove websearch.wonderfulsearches.info from the browsers
Internet Explorer
Press Alt+T and click Internet Options.
Change the home page and click OK.
Press Alt+T and click Manage Add-ons.
Open the Toolbars and Extension section and make sure that it contains no unnecessary browser extensions.
Click Search Providers and set a new default search engine.
Google Chrome
Press Alt+F and point to Tools. Click Extensions.
Remove unwanted browser extensions.
Click Setting on the left side of the browser window.
Under On startup, select the third option and click Set pages.
Set a new startup page.
Under Search, click Manage search engines and set a new search provider.
Mozilla Firefox
Press Alt+T and click Options.
Open the General tab and change the home page. Click OK.
Press Ctrl+Shift+A and click Extensions and remove unwanted extensions.
Close the tab and click the search engine icon next to the search box.
Select a new default search provider.
In non-techie terms:
We recommend that you remove websearch.wonderfulsearches.info using a powerful anti-malware program. Below you will find our step-by-step instructions that will help you install our recommended program.