Do you know what Websearch.the-searcheng.info is?
Websearch.the-searcheng.info looks like a reputable search engine at first sight and it does not differ from other search providers regarding its appearance; however, we still do not think that it can be trusted for a number of reasons which we will enlist in this article. Generally speaking, it is advisable not to keep Websearch.the-searcheng.info and use it to find the necessary information because this search engine might expose you to potential threats. On top of that, you will see the presence of Websearch.the-searcheng.info day after day on all your browsers and will not be able to set another homepage and search provider unless you remove Websearch.the-searcheng.info browser hijacker completely. This is not so easy to do but we are ready to help you with that, so we advise you to read this article from beginning to end.
If you wonder why we do not think that Websearch.the-searcheng.info can be trusted, you should know that this search engine is going to provide you with ads and sponsored links. These will be placed among search results, so it is very likely that you will not even notice them and thus click on them. You might be taken to corrupted websites if you keep clicking on those ads. These websites might contain malicious software and you might not even know about that. If you surf such a website, you might infect your system with malware extremely quickly. We really do not think that you want this to happen, so we suggesting erasing Websearch.the-searcheng.info hijacker as quickly as possible. You should do that also because this hijacker might violate your privacy. Websearch.the-searcheng.info itself claims that it collects only non-personally identifiable information. Unfortunately, specialists do not think that it is true.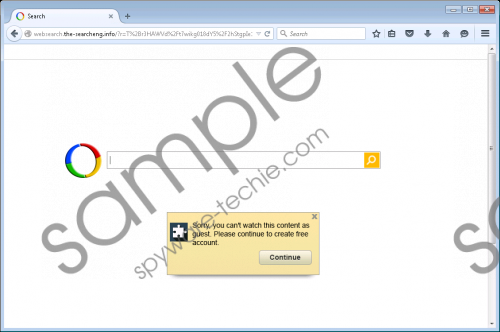 Websearch.the-searcheng.info screenshot
Scroll down for full removal instructions
It is not likely that you have set Websearch.the-searcheng.info as your homepage and search engine yourself. According to our researchers, it is more likely that you have downloaded the InstallRex bundle from a torrent website. Unfortunately, Websearch.the-searcheng.info browser hijacker is not the only threat in this bundle. We believe that this infection comes bundled with potentially unwanted programs (e.g. Optimizer Pro) and advertising-supported applications (adware). You should check whether these programs have really managed to enter your system and erase them all as soon as possible if it turns out to be true. If you do not want to delete malware ever again, install a security tool on your PC and stop visiting unreliable websites.
Websearch.the-searcheng.info browser hijacker can be removed from browsers by resetting all of them. You can also use an automatic malware remover if you want to get rid of Websearch.the-searcheng.info browser hijacker quicker. We also do not say that you cannot change your homepage and search engine manually. Keep in mind that the manual method requires more time.
Delete Websearch.the-searcheng.info
Internet Explorer
Open your browser and tap Alt+T.
Select Internet Options and click on the Advanced tab.
Click Reset and then check the Delete personal settings box.
Click the Reset button once again.
Google Chrome
Open your browser and tap Alt+F.
Select Settings and click Show advanced settings.
Click Reset settings.
Click Reset.
Mozilla Firefox
Open your browser and tap Alt+H.
Select Troubleshooting information.
Click Refresh Firefox.
Click the Refresh Firefox button once again.
In non-techie terms:
If you are going to reset your browsers or change homepage and search provider, you should not forget that you still have to check your system's condition because there might be other threats installed. They might also perform undesirable activities, so the better you get rid of them, the better. If you cannot do that yourself, leave all the work for an automatic malware remover, e.g. SpyHunter.