Do you know what Websearch.simplespeedy.info is?
Websearch.simplespeedy.info is a browser hijacker that gets on your system when you click ads while browsing torrent and file-sharing websites. After it gets installed, Websearch.simplespeedy.info messes with your browser settings. It functions on all three major web browsers. It can be really annoying to deal with, so if you find that Websearch.simplespeedy.info is on your system, we recommend removing it. You will be relieved once it is gone.
If you have Websearch.simplespeedy.info as your web browser homepage, it means that you have become a victim of a dodgy free software bundle, as bundling is the only way Websearch.simplespeedy.info is distributed. The most common bundle containing this hijacker is often found on adware servers promoting fake Flash and Java updates. You go to these servers when you click ads on file sharing or torrent websites. You could also have adware on your system.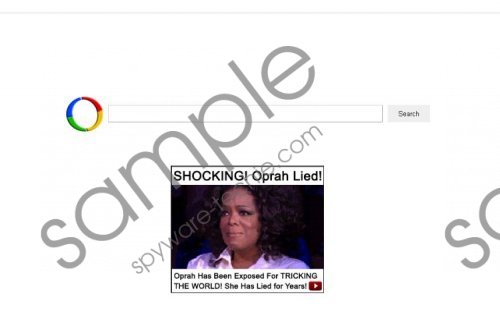 websearch.simplespeedy.info screenshot
Scroll down for full removal instructions
When downloaded, Websearch.simplespeedy.info hijacks your homepage and the default search engine, changing both to Websearch.simplespeedy.info. This is all done without regard to your wishes. This is not the way respectable software is programmed to behave. Remove Websearch.simplespeedy.info at once.
If you are not ready to take this step yet, let us point out that Websearch.simplespeedy.info shows search results from Google and its homepage looks awfully similar to Google too. The only real difference is the presence of ads. Why would you want something that looks like Google but isn't, instead of just using Google? Delete all traces of Websearch.simplespeedy.info, you will not miss it, we promise you.
We mentioned ads before, so it is time to go into more detail. Websearch.simplespeedy.info collects knowledge about your browsing. It is concerned with any non-personally-identifiable information, which could help it make you click its ads more often. Once you click an advertisement, you get redirected to another website. You cannot be certain about its safety at all. They sometimes contain more or less serious threats to your computer security. We advocate taking care of your system by removing Websearch.simplespeedy.info and taking care to not get infected again.
Websearch.simplespeedy.info removal is not an overly complicated process. Some average computer users could have trouble with it, though. If you would prefer a sure way to delete all threats to your computer security instead of doing it yourself, we recommend getting a powerful spyware removal tool. If you do not want to, however, the instructions for manual Websearch.simplespeedy.info removal are included below.
Websearch.simplespeedy.info Removal
Google Chrome
Go to chrome://settings through your address bar.
Find the section On Startup, select Open a specific page or set pages.
Click Set pages, find and delete Websearch.youwillfind.info, then click OK.
Find the Appearance section.
Check the Show Home button box, click Change, and delete Websearch.youwillfind.info.
Click OK, go to the Search section, and click Manage search engines.
Find your favorite search engine and click Make default next to its name.
Delete Websearch.youwillfind.info by clicking X.
Confirm by clicking Done.
Mozilla Firefox
Press Alt+T and go to Options.
Click the General tab, delete the homepage URL.
Change your homepage URL to the one you prefer and click OK.
Click the small triangle next to your search provider icon in the search box.
Click Manage search engines and Remove Websearch.youwillfind.info.
Click OK.
Internet Explorer
Press Alt+T, go to Manage add-ons, click Search Providers.
Choose your favorite search provider as default.
Remove Websearch.youwillfind.info from the list and press Alt+T again.
Go to Internet Options, click the General tab, and delete your homepage URL.
Set your new homepage.
Click OK.
In non-techie terms:
Websearch.simplespeedy.info is a browser hijacker that messes with your browser settings without your permission, and collects your browsing data to show ads that redirect to dodgy websites. This is not how respectable software operates; hence, we recommend immediate Websearch.simplespeedy.info removal upon discovering it on your computer.