Do you know what Websearch.seekplaza.info is?
Even though Websearch.seekplaza.info might look like a regular search provider, our researchers have found that it may be operated as a browser hijacker. Have you found this search tool installed on your web browsers without your acknowledgement and permission? Even if you have not, you need to delete Websearch.seekplaza.info from your operating system right away. This browser hijacker can be a serious threat, and the sooner you remove it from your PC, the fewer security issues you are likely to encounter. Read this report to learn more about this threat and its removal.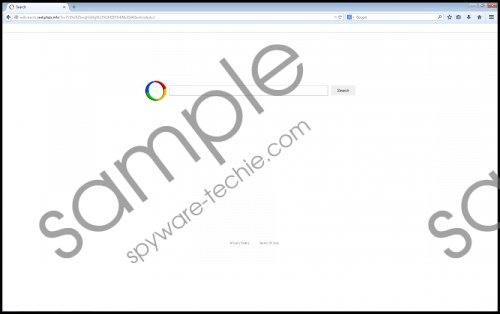 Websearch.seekplaza.info screenshot
Scroll down for full removal instructions
Websearch.seekplaza.info is usually spread with the help of Installrex installers that can bundle this hijacker with potentially unwanted programs (e.g., EZDownloader and Optimizer Pro) and adware from the Justplugit family (e.g., Unideals). Needless to say, the malware installed alongside this hijacker also requires removal, and you should not postpone the process for much longer. As you might already know, Websearch.seekplaza.info has plenty of clones, including Websearch.freesearches.info and Search.searchonme.com. If you do not take the necessary security measures – even if you remove the hijacker successfully – the clones could attack your operating system in the future. Needless to say, this is not what you need, because Websearch.seekplaza.info and its clones can spy on you, expose you to misleading advertisers, and present sponsored search results. Their removal is your only option.
If you do not want to worry about your virtual security every time you interact with search results or advertisements, you must remove Websearch.seekplaza.info from your operating system as soon as possible. Unfortunately, it is unlikely that this threat will be deleted after you replace the undesirable search tools, which you can do using the removal guide below. Instead of locating and removing files one by one (including the associated infections) yourself, you can install a security tool that will delete all malicious programs automatically. This software is irreplaceable when it comes to keeping other malware away, which is why we strongly recommend installing it ASAP.
Delete Websearch.seekplaza.info
Delete from Google Chrome:
Launch the browser, simultaneously tap Alt+F, and select Settings.
Go to On Startup, select Open a specific page or set of pages, and click Set pages.
Click the undesirable URL and remove/overwrite its URL. Click OK.
Go to Appearance, mark Show Home button, click Change, and repeat step 3.
Go to Search, select Manage search providers, and set a new default search provider.
Remove the unwanted one search provider clicking X on its URL and select Done.
Delete from Mozilla Firefox:
Launch the browser, simultaneously tap Alt+T, and click Options.
Click the General tab, remove/change the Home Page URL, and click OK.
Click the Search icon on the Firefox search box and select Manage Search Engines.
Select the undesirable option, click Remove, and click OK.
Delete from Internet Explorer:
Launch the browser, simultaneously tap Alt+T, and select Manage add-ons.
Under Search Provider select and Remove the unwanted search tool and click Close.
Simultaneously tap Alt+T and select Internet Options.
Click the General tab, change/remove the Home Page URL, and click OK.
In non-techie terms:
Websearch.seekplaza.info is not a reliable search tool. Even if you manage to circumvent all the security backdoors exposed to you by this search tool, you still need to remove it from your browsers. Our removal guide in this report should help you delete Websearch.seekplaza.info from your browsers, but we advise using a reliable security tool to delete the leftovers of this threat. Note that this software can also remove other threats and protect you from their attacks in the future.