Do you know what Websearch.Searchoholic.info is?
Websearch.Searchoholic.info is a search engine that is promoted by a browser hijacker, which gets onto the computer alongside various free programs. Websearch.Searchoholic.info is no surprise to security experts because this search provider is identical to some other search engines, including websearch.searchinweb.info, websearch.searchmania.info, and websearch.fixsearch.info. These identical search engines have been budded as Websearch hijackers because computer users encounter them unexpectedly after installing freeware. The browser replaces the home page of Internet Explorer, Google Chrome, and Mozilla Firefox to Websearch.Searchoholic.info, and we recommend that you remove it from the browsers as soon as you can.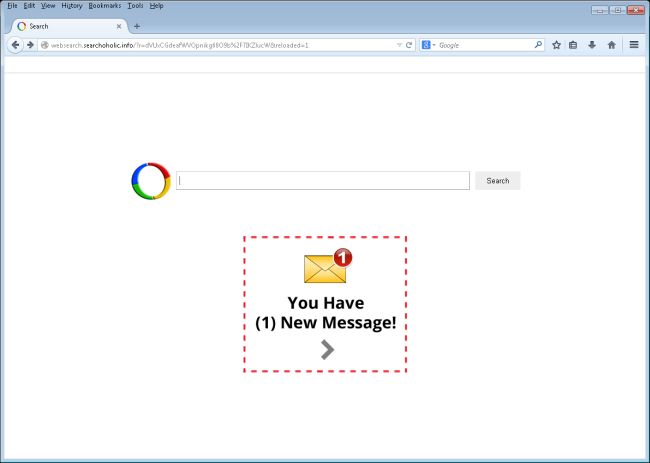 Websearch.Searchoholic.info screenshot
Scroll down for full removal instructions
The reason we urge you to remove Websearch.Searchoholic.info from the PC is that this search provider is advertising-supported. The startup page of Websearch.Searchoholic.info shows third-party advertisements, some of which may be aimed at deceiving you. The administrators of the website do not review or endorse third parties and have no control over their activities. For instance, you may be offered a system scanner, an update for some software program, online contests, or some similar suspicious service. Offers that do not specify what you will be provided with upon clicking on the ad should be disregarded because they are likely to be related to phishing websites. By displaying third-party advertisements, Websearch.Searchoholic.info earns money, which is a typical feature of search engines.
Interestingly, Websearch.Searchoholic.info redirects computer users to Google search results instead of providing its own unique search hits. Nevertheless, it is worth removing Websearch.Searchoholic.info from the browsers because, like many other search engines, Websearch.Searchoholic.info monitors the activities of the user. Third parties promoted by Websearch.Searchoholic.info may also use some tracking techniques, such as cookies and JavaScript, to monitor your online behavior. Note that nobody but you are responsible for your interaction with third parties, so, if you do not want to risk your privacy, take action to remove Websearch.Searchoholic.info from the PC.
The next time you decide to install a program, do no hurry to do it but get acquainted with the information provided by the installation wizard. Moreover, you should avoid downloading programs from unreliable sources. It has been found that the installer featuring this browser hijacker is spread via advertisements promoting Flash or Java updates. Upon clicking on the ads, the user is provided with several programs, including the browser hijacker replacing the home page with Websearch.Searchoholic.info.
If you want to remove Websearch.Searchoholic.info manually, try the following instructions, but we recommend that you implement a reputable scanner which can remove Websearch.Searchoholic.info for you. We recommend using SpyHunter, because this program can easily remove Websearch.Searchoholic.info and shield the system against multiple threats, including Trojan horses, browser hijackers, ransomware, fake anti-virus programs, etc.
How to remove Websearch.Searchoholic.info
Internet Explorer
Press Alt+T and click Internet options.
Open the General tab.
Change the home page and click OK.
Press Alt+T and click Manage Add-ons.
Click Search Providers.
Change the default search provider.
Mozilla Firefox
Press Alt+T and click Options.
Open the General and change the home page.
Click OK.
Press the search engine icon next to the search box.
Set a new default search provider.
Google Chrome
Press Alt+F and click Settings.
In the On startup section, select the third option and click Set pages.
Delete Websearch.Searchoholic.info and type in the URL of your new startup page.
In the Search section, click Manage search engine and change the search engine if necessary.
In non-techie terms:
If you want to be sure that you have removed Websearch.Searchoholic.info from the computer, implement the scanner available below. Our recommended program will easily examine the system and provide you with information about the status of your operating system.