Do you know what websearch.searchissimple.info is?
Websearch.searchissimple.info is a search engine which replaces your home page once you install the browser extension SearchNewTab (SNT). The browser extension is likely to be bundled with fake installers to which you are taken by pop-up warning requiring that you install a Flash or Java update. You should be very attentive every time you launch the installer of a free program because software distributors earn money by bundling several computer applications. Hence, you should always read the information provided by the installer and keep the system protected against unreliable programs. If your Internet Explorer, Mozilla Firefox, and Google Chrome are affected by websearch.searchissimple.info, we recommend that you take immediate actions to remove the browser hijacker.
The browser extension promoting websearch.searchissimple.info records your search terms, clicks, impressions, time spent on various websites, and browser history. Some of the details recorded by the application may be personally identifiable and may also be used for advertising purposes. If you want to prevent targeted advertisements, you should take immediate action to remove the browser extension.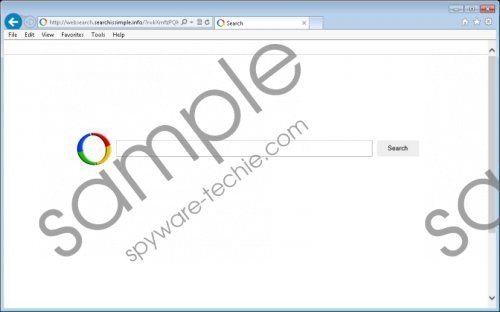 Websearch.SearchisSimple.info screenshot
Scroll down for full removal instructions
Websearch.searchissimple.info uses cookies, pixels, and other tracking technologies to monitor your behavior. The same tracking techniques can be used by third parties' websites to which you are taken by the search engine search.smartaddressbar.com, which is set as the default search provider of the browser.
Do not hesitate to remove websearch.searchissimple.info from the browsers because this search engine allows third parties to send their advertisements to your browsers. The content of the advertisements is not monitored or controlled by websearch.searchissimple.info, which means that you click on those advertisements at your own risk. You may find advertisements promoting online games, health products, computer applications, etc. Bear in mind that some of the advertisements may be aimed at making you provide you personal information, pay for counterfeit products or download unreliable computer applications. The developers of the search engine websearch.searchissimple.info do not endorse third parties, so, if you want to browse those websites, be very careful.
As regards the removal of websearch.searchissimple.info, you have two options. First, you can try removing the browser hijacker manually. It has its uninstaller; however, some changes on the browser are still necessary. You will find that the browser extension is named awkwardly. Instead of SeachNewTab or SNT, you may find that it is presented as SearCHNewwTab, SNNT, SnT, SeeArch-NewTaab, etc. After removing the extension and restoring the settings, you should scan the system to make sure that all the components of the browser hijacker are removed.
In case you want to save your time and have websearch.searchissimple.info removed for you, you should use SpyHunter. This application can protect you against multiple browser hijacks, including websearch.webisawsome.info and Websearch.toolksearchbook.info, rogue anti-spyware programs, and many other threats.
Remove websearch.searchissimple.info
Windows Vista and Windows 7
Open the Start menu.
Click Control Panel.
Select Uninstall a program.
Remove STN (SearchNewTab).
Windows XP
Click Start.
Click Control Panel.
Select Add or Remove Programs.
Uninstall the unwanted application.
Windows 8
Move the mouse to the lower-left corner of the screen.
Right-click and select Control Panel.
Click Uninstall a program and remove the unwanted application.
Delete Websearch.SearchisSimple.info from your browsers
Internet Explorer
Press Alt+T and click Internet Options.
Change the home page on the General tab.
Click OK.
Press Alt+T and click Manage Add-ons.
Click the Search Providers and set a new search provider.
Mozilla Firefox
Press Ctrl+Shift+A and click Extensions.
Remove the unwanted extension.
Close the tab and press Alt+T.
Change the home page on the General tab.
Click OK.
Click the search engine icon next to the search box of the browser and set a new search provider.
Google Chrome
Press Alt+F and point to Tools.
Click Extensions.
Remove SearchNewTab.
Click Settings.
Under On startup, select the third option and click Set pages.
Set a new startup page.
Under Search, click Manage search engines and select a new search provider.
If necessary, change the settings of the home button under Appearance.
In non-techie terms:
Websearch.searchissimple.info is a search engine promoted by the browser extension SearchNewTab, which is categorized as a browser hijacker. If you want to restore the former settings of the browsers, implement a powerful spyware removal tool.