Do you know what websearch.searchinweb.info is?
Websearch.searchinweb.info is a search engine which does not provide authentic search results. The main purpose of the application is to expose you to various online advertisements which are presented by undisclosed third parties. Without a doubt, this is the main reason why you should make sure to have websearch.searchinweb.info deleted from all affected web browsers. We categorize the program as a browser hijacker because it can take over your browsers illegally. In some cases, it could even come bundled with other adware programs. Overall, we can guarantee that this is not a search engine you can trust even if it redirects you to google.com/search.
The suspicious websearch.searchinweb.info derives from a group of search engines all of which cannot present original search results and which have been designed to present online advertisements. Other browser hijackers which belong to this group include Websearch.searchguru.info, Websearch.pu-result.info and many others. Even though these search engines may seem harmless, there is a great chance that they could use tracking tools to spy on your virtual activity. Do you want unfamiliar parties tracking you every move? If you do not, we suggest that you refrain from using the search engine and clicking on the displayed advertisements which could hide links to potentially corrupted websites.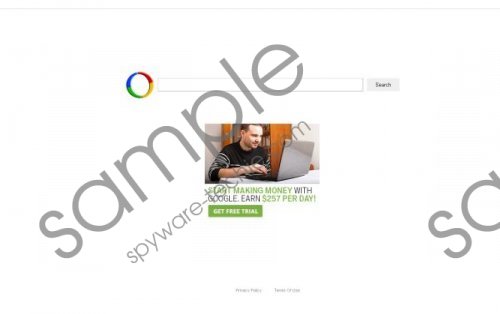 Websearch.searchinweb.info screenshot
Scroll down for full removal instructions
Have you discovered YoutubeAdBlocker, Greatsaver, and other suspicious applications after finding the suspicious websearch.searchinweb.info set as the home and the default search provider of IE, Chrome and Firefox browsers? These disruptive applications should be removed from the computer together with the malicious browser hijacker because they are not beneficial and they cannot be trusted. If you keep them running, soon enough your browsers could be flooded with even more suspicious advertisements. To remove websearch.searchinweb.info and other existing threats we recommend applying an automatic malware detection and removal tool. If you are ready to tackle the threat yourself, begin by performing the steps presented below.
Delete the undesirable search tools
Delete from Internet Explorer:
Simultaneously tap Alt+T and click Manage Add-ons.
From the menu on the left select Search Providers.
Remove the undesirable search provider and click Close.
Tap Alt+T again and select Internet Options.
Click the General tab and find the Home Page.
Overwrite/remove the displayed URL and click OK.
Delete from Google Chrome:
Simultaneously tap Alt+F and click Settings.
Under On Startup section select Open a specific page or set of pages.
Click Set pages and remove the unreliable search tool. Click OK.
Now locate Appearance and select Show Home button.
Click Change and then remove the undesirable option. Click OK.
Go to Search and click Manage search engines.
Click X on the search engine which you wish to remove and select Done.
Delete from Mozilla Firefox:
Simultaneously tap Alt+T and select Options.
Click the General tab and navigate to the Home Page.
Overwrite/remove the URL and click OK.
Move to the search box on the top-right corner of the page.
Click the search provider icon to open a menu.
Select Manage Search Engines.
Remove the undesirable search provider and click OK.
In non-techie terms:
There is no doubt that websearch.searchinweb.info is a browser hijacker because it can take over your web browsers without your consent. The search engine does not present authentic search results, which is why there is no point in running it on your browsers. After you perform the manual removal instructions above, you should immediately install a reliable malware scanner which will examine the system and help you find the programs which you need to delete. Make sure that authentic security tools are installed to keep your personal Windows system guarded once you get rid of all malicious threats.
Aliases: searchinweb.info.