Do you know what searchere.info is?
If the home page of your web browser has been changed to Websearch.searchere.info, we can guarantee that a malicious browser hijacker has been dropped onto your personal computer. The infection could have been dropped onto your computer alongside the unreliable programs you have decided to install. In fact, you may have even been informed about the changes, which may trick you into thinking that you can trust this unreliable search engine. Unfortunately, you cannot trust it, and so we recommend that you delete Websearch.searchere.info right away. If you do not know how to delete the infection from the computer – continue reading the report.
It has been discovered that the clandestine Websearch.searchere.info hijacker comes bundled with a default search provider hijack. In this case you may discover that the default search engine is now set to localmoxie.com. Neither of these sites should be trusted at any point. You definitely should not use them to browse the web and find information. As research shows, these hijackers may present you with links to unreliable or even corrupted websites. Needless to say, this is highly dangerous because this is a security vulnerability that cyber criminals could use to drop malware, spy on your virtual activity and perform other mischievous activity. This may be linked to other browser hijacker as well, and some of them include 7go.com, Websearch.oversearch.info and onmylike.com.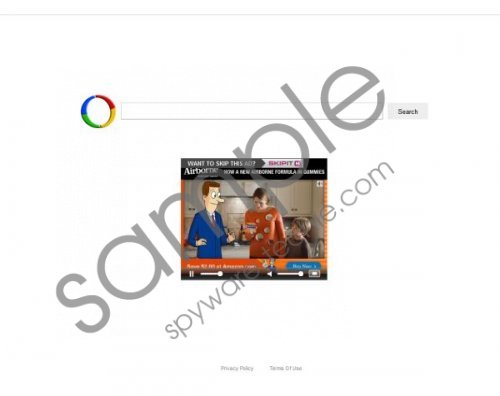 Websearch.searchere.info screenshot
Scroll down for full removal instructions
You should not hesitate about Websearch.searchere.info removal for another moment. Whether you have experience with the removal of browser hijackers or not, we recommend that you delete the threat using reliable Windows security tools. For example, SpyHunter is a great malware remover which will detect and delete all infections running on your personal computer. Click the download button below and follow the provided instructions to acquire the tool onto the operating Windows system.
As soon as the infection is deleted you need to change the home page and default search provider settings. Please follow the manual removal instructions below to perform this task.
Remove undesirable search tools
Remove from Google Chrome:
Launch the browser, simultaneously tap Alt+F and select Settings.
Move to On Startup and mark Open a specific page or set of pages. Click Set pages.
Change/remove the default URL to get rid of the undesirable option. Click OK.
Move to Appearance and mark Show Home button.
Click Change and repeat step 3.
Move to Search and click Manage search engines.
Select a new default search provider and remove (click X) the undesirable one.
Click Done and restart Chrome.
Remove from Mozilla Firefox:
Launch the browser and click the search provider icon found on the search box.
Select Manage Search Engines.
Click the undesirable option, select Remove and then OK.
Simultaneously tap keys Alt+T and select Options.
Click the General tab and locate the Home Page URL.
Change/delete it, click OK and restart Firefox.
Remove from Internet Explorer:
Launch the browser, simultaneously tap Alt+T and select Internet Options.
Click the General tab, change/delete the Home Page URL and hit OK.
Open the Tools menu (Alt+T) again and select Manage Add-ons.
From the menu on your left select Search Providers.
Choose a new default provider and Remove the undesirable one.
Click Close and restart Internet Explorer.
In non-techie terms:
Websearch.searchere.info is a browser hijacker which you should remove from the operating Windows system right away. We recommend that you get rid of the infection using automatic malware detection and removal software; however, if you are experienced with malware removal – continue manually. Please post a comment below if you have any other questions regarding the infection or its removal.
Aliases: searchere.info.