Do you know what Websearch.search-mania.info is?
Websearch.search-mania.info is a browser hijacker that comes from a well-known group of similar infections. It belongs to the Websearch family, and we are well acquainted with this group of annoying computer threats. Browser hijackers modify your browser settings without your permission, and if you fail to remove them immediately, you could eventually be exposed to a number of dangerous websites that could be associated with malware distribution. Hence, your best way out of this situation is obviously removing Websearch.search-mania.info from your system immediately. You can do that by following the instructions below this article.
As mentioned, we have encountered to similar infections before. And, true enough, this browser hijacker is just a clone of Websearch.searchhouse.info, Websearch.simplesearches.info, Websearch.searchuniverse.info, and many others. It is clear that all these infections are designed and programmed according to the same pattern and principle. They are supposed to infiltrate your computer and modify your browser settings. The program affects Internet Explorer, Mozilla Firefox, and Google Chrome.
Some users may think that Websearch.search-mania.info is a genuine search engine, seeing how it has a search bar and looks like a Google search rip-off. Nevertheless, please do not overlook the commercial ad bar right above the search bar. You will see a flickering image that urges you to click it. Sometimes the advertisement will try to convince you that your computer security is at risk, and you simply must click it to repair supposed errors.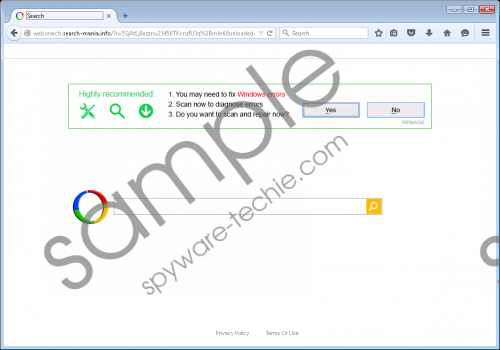 Websearch.search-mania.info screenshot
Scroll down for full removal instructions
The longer you keep this browser hijacker on-board, the more customized its ads will become. That happens because Websearch.search-mania.info employs tracking cookies and other tracking technologies to monitor your online activity. The program needs to know your web browsing patterns so that it could target custom content at you. The content would reach you via links embedded in search results, and commercial advertisements that would appear when you expect them the least.
Needless to say, such activity is more annoying than dangerous, but there are specific security concerns you should not ignore. For example, Websearch.search-mania.info could be easily exploited by cyber criminals to distribute their content. Some of the links promoted by this browser hijacker could be embedded by hackers and malware developers, and if you happen to click them, it would be only a matter of time until you get infected with Trojan, ransomware, rogue antispyware, and other dangerous programs.
The point is that browser hijackers are not responsible for the third-party content they promote, so you can never know where you may land if you click a link delivered by Websearch.search-mania.info. On one hand, you may say that this program does not try to infect you with malware, and you would be absolutely right. The reason this browser hijacker is on your computer is money, and it earns it each time you click an outgoing link in the ads provided by the application.
However, on the other hand, this aloof attitude towards security raises particular concerns because it works both ways. Since Websearch.search-mania.info does not check the third-party content, cyber criminals could make use of the application as a malware distribution vehicle. In other words, the browser hijacker could be exploited without even realizing it, and you would be only a step away from a serious computer infection.
That is why it is important to remove Websearch.search-mania.info right now. You will find detailed removal instructions below this description, but that may not be enough to terminate all the potential security threats. This browser hijacker must have come bundled with freeware, and so, there is a good possibility that there are countless unnecessary and potentially harmful programs installed on your PC.
Run a full system scan with the SpyHunter free scanner and terminate all the malicious files and programs automatically. If you need any assistance with ensuring your system's stability, we are always ready to help. Do not hesitate to leave us a comment if you have any further questions. Remember that your computer's security should be your utmost priority.
How to Remove Websearch.search-mania.info
Google Chrome
Press Win+R and enter %AppData%. Click OK.
Go to Local\Google\Chrome\User Data\Default.
In the directory, remove the Preferences, Secure Preferences, and Web Data files.
Internet Explorer
Press Win+R and type regedit into the Open box.
Click OK and go to HKEY_CURRENT_USER\Software\Microsoft\Internet Explorer\Main.
Right-click the Start Page value on the right pane.
Select Modify and remove Websearch.search-mania.info.
Enter a new homepage address and click OK.
Mozilla Firefox
Press Win+R and type %AppData% into the Open box.
Press Enter and go to Roaming\Mozilla\Firefox\Profiles\.
Open the unique user ID folder.
Use Notepad to open the prefs.js file.
Remove the user_pref("browser.startup.homepage", "http://Websearch.search-mania.info"); string from the file.
Save changes and close the file.
In non-techie terms:
Sometimes browser hijackers look like decent search engines but they are deceptive and dangerous. Rather than being malicious by nature, they can be easily exploited by cyber criminals to distribute their corrupted content. Therefore, it is in your best interest to remove Websearch.search-mania.info from your computer and safeguard the system against similar threats.