Do you know what Websearch.hotsearches.info is?
It has been a long time since we reviewed a browser hijacker from the Websearch family, but here we are. So, Websearch.hotsearches.info is a browser hijacker, a program that does exactly what its ascribed category implies – it hijacks web browsers, and for that reason we advocate its removal. We are not trying to give you the impression that the application starts independently controlling your browser, but it simply changed the default homepage and search engine and prevent you from changing them back to your preferred ones.
Your PC can become infected with Websearch.hotsearches.info only by installing software bundles, since it is the only way this infection is disseminated. Research has shown that the infection does not have its own dedicated webpage. However, we have made this assumption prior to conducting the research because its clones that have been released in the past were also distributed in this manner. Websearch.searchfix.info, Websearch.searchinweb.info, Websearch.search-guide, Websearch.coolwebsearch.info, and others like them have all been distributed in this fashion. Websearch.hotsearches.info has many clones, so many in fact that there is not enough space to fit them all in one article. The purpose of this hijacker is to promote a custom search engine which also doubles as a search provider. So, let us discuss this a bit more in greater detail.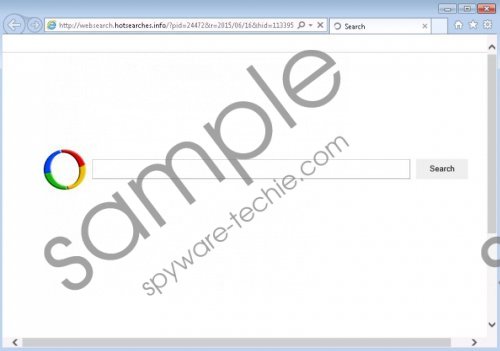 Websearch.hotsearches.info screenshot
Scroll down for full removal instructions
The appearance of the search engine has been designed in such a way so that is resembles Google.com. Notice the green, blue, red, and yellow color scheme that is synonymous with Google. The developers have done this, so that unwary users would not notice the change. And all of the searches are redirected to Google anyway so there would be no point to keep this search engine even if it was legitimate, which it is not. The main search engine page features third-party advertisements that promote certain pages. These pages can be unreliable, and it is possible that they might get your PC infected with more malware.
Another thing that must be discussed is the hijacker's ability to collect information about you. The search engine and its website can use browser cookies to collect information, such as browsing habits, search queries, approximate geographical location, IP address. Browser settings, information from your social media profiles, and so on. If you accept cookies from third parties associated with Websearch.hotsearches.info they will also use this information to customize their ads. So, if you do not want shady entities to get hold on information about you and be subjected to potentially dangerous advertisements, we recommend that you remove Websearch.hotsearches.info from your PC.
Uninstalling the browser extension will not be enough, since the application was designed in such as way so that it would have the ability to prevent you from making any significant changes. For this reason we have created a manual removal guide that will guide you through the whole process step by step. If the process proves too difficult, leave comment in the comment section, and we will get back to you as soon as we can. And you may also use our recommended anti-malware scanner, called SpyHunter, which will remove Websearch.hotsearches.info in with a press of a button.
Remove Websearch.hotsearches.info from your computer
Windows XP
Open the Start menu.
Open the Control Panel and click Add or Remove Programs.
Find Websearch.hotsearches.info.
Remove.
Windows Vista & Windows 7
Open the Start menu.
Open the Control Panel and click Uninstall a Program.
Find Websearch.hotsearches.info and right-click on it.
Uninstall.
Windows 8 & Windows 8.1
Move the mouse cursor to the lower left of your screen.
Open the Start Screen.
Type Uninstall in the search box and then go to Settings.
In the search results, click Uninstall a program.
Find Websearch.hotsearches.info.
Uninstall.
Delete the modifications made to the Brower's Target line
Right-click on Firefox, Chrome or Internet Explorer browser's shortcut.
Select Properties and open the Shortcut tab.
Remove the unwanted search engine from the end of the Target line.
Click OK.
Remove Websearch.hotsearches.info from your browser
Microsoft Internet Explorer
Tap Alt+T and select Internet Options.
Open the Advanced tab and click Reset.
Put a check on the Check box.
Click Reset and click Close.
Mozilla Firefox
Tap Alt+H and select Troubleshooting Information.
Click Reset Firefox.
In the dialog box, click Reset Firefox again.
Click Finish.
Google Chrome
Tap Alt+F and choose Settings.
Select Show advanced settings.
Click Reset settings and click Reset again.
In non-techie terms:
Websearch.hotsearches.info is a browser hijacker that is set to promote a unreliable search engine that collect information about its users and displays unreliable third-party advertisements, that cause compromise your computers security. If you want to prevent shady entities from snooping around and you do not want to see unreliable ads, please remove Websearch.hotsearches.info using the manual instructions above or use our recommended antimalware scanner.