Do you know what Websearch.hotfindings.info is?
Even though the name of Websearch.hotfindings.info search engine suggests that it is a helpful search tool, our research team can assure you that this is not the case. In fact, this search engine can act as a malicious and intrusive browser hijacker! Even though there are some users who do not care whether unfamiliar search tools attack their web browsers, most users should recognize that this kind of activity is malicious. ALL programs that can enter operating systems without permission are identified as malicious, and removing them is necessary. It was found that Websearch.hotfindings.info has many clones, including Websearch.hotsearches.info and Websearch.goodfindings.info. All of the so-called Websearch Hijackers require removal, but this article will show you how to remove Websearch.hotfindings.info.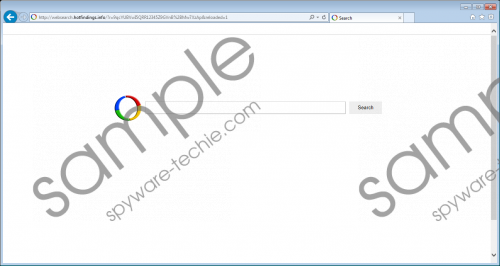 Websearch.hotfindings.info screenshot
Scroll down for full removal instructions
Websearch.hotfindings.info can be distributed by unreliable software installers, such as Installrex. This installer is known for distributing ad-supported software (e.g., WorkApp, ConvertApps), potentially unwanted programs (PUPs), and malicious browser hijackers. Of course, if this installer provides you with the chance to reject the suspicious search tool, you cannot call Websearch.hotfindings.info a hijacker, but you need to delete it nonetheless. According to our research, this suspicious search tool can put your virtual security at serious risk is several different ways. First of all, it is important to mention that this search tool can install tracking cookies capable of collecting personal information. There is a risk that this information will be leaked, which might lead to virtual identity theft and outrageous scams. Unfortunately, there are even more reasons to remove Websearch.hotfindings.info from your browsers.
Have you noticed Websearch.hotfindings.info redirecting to google.com/search? Even though Google is one of the most popular search tools on the web, it is possible that the hijacker will affect the search results presented to you. For example, unreliable advertisements could be injected. We do not recommend interacting with the ads that show up on the home page of Websearch.hotfindings.info or the ones injected into the search results. If you do, other infections might find their way into your operating system. If they do, you will have to remove them as well.
All in all, it does not matter much how many infections are installed on your PC if you decide to install an automated malware removal tool to delete them. Of course, if you are thinking about the manual removal option, we have to warn you that you are in for a ride. Firstly, follow the instructions below to delete Websearch.hotfindings.info from all of the infected browsers, then remove the leftovers of this hijacker, and, finally, eliminate the remaining computer infections.
Remove Websearch.hotfindings.info
Remove from Mozilla Firefox
Launch Firefox, simultaneously tap Alt+T, and select Options.
In the General menu edit/delete the Home Page URL.
In the Search menu select a reliable search provider.
Remove the undesirable search provider and restart your browser.
Remove from Internet Explorer
Launch IE, simultaneously tap Alt+T, and select Internet Options.
Click the General tab, edit/delete the Home Page URL, and click OK.
Simultaneously tap Alt+T again and select Manage Add-ons.
Go to Search Providers and select a reliable default search provider.
Remove the unreliable search provider, click Close, and restart IE.
Remove from Google Chrome
Launch Chrome, simultaneously tap Alt+F, and select Settings.
Under On Startup mark Open a specific page or set of pages.
Click Set pages and edit/delete the undesirable URL. Click OK.
Under Appearance mark Show Home button.
Click Change and edit/delete the undesirable URL. Click OK.
Under Search click Manage search engines.
Select a reliable default search provider.
Remove (click X) the undesirable provider, click Close, and restart the browser.
In non-techie terms:
Even though Websearch.hotfindings.info might look like a harmless infection, there is no doubt that it can cause many problems. If you want to stop personal data leaks and avoid potentially misleading advertisements, it is best to delete Websearch.hotfindings.info right away. If the malicious infections installed along with this hijacker have taken over your operating system, it is possible that you will have problems installing reliable security software. Follow the instructions below to install software that will delete malware and protect your virtual security.