Do you know what Websaver is?
Websaver is a browser add-on which displays various advertisements, a majority of which may have nothing in common with your actual interests. The program is capable of randomly generating its name and can be installed as wEbsavver, WeebsAveR, wEbsauvEr, etc. It is highly advisable to ignore Websaver pop-ups and remove the program itself in order to prevent adverse consequences.
Websaver is based on the Justplug.it search engine, which is commonly used by software developers to build browser plug-ins. The pop-ups, web wanners, and other advertisements of Websaver belong to some particular third-parties, which are not endorsed by the developer of the adware program. By installing the program you agree to be provided with third-party advertisements but if you have no intention of using this application, do not delay the removal of Websaver.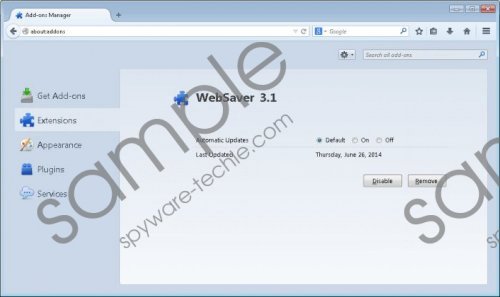 Websaver screenshot
Scroll down for full removal instructions
Over the past years, malware researchers have observed that computer users disregard the information displayed on the screen during the installation of software. It is worth reviewing the license agreement so that you can prevent unwanted changes in your browsers. The Websaver browser plug-in is mostly installed via bundled installers, and fake software update websites are one of the sources of Websaver. If you ever encounter a suspect warning claiming that your Internet Explorer or Flash player is outdated, you should not fall for the trick. First, you should make sure that the warning claims the truth; otherwise, you may not like the results. There are many ad-supported websites that may display deceptive advertisements; moreover, the same ads may be generated by adware programs.
Besides, once installed, the adware program starts monitoring your online action. Browser cookies and other tracking techniques may be used to gather information about your browsing preferences, search terms, browser settings, geographical location, etc. If you want to prevent targeted advertisements and data loss, remove Websaver from the computer right now.
It is worth noting that Websaver should not be confused with Websaver.ca, which is a legitimate coupon service for Canadian shoppers who want to get the latest information about retailers' offers.
When it comes to removal, we recommend that you use a powerful spyware and malware prevention tool. Below you will find a software removal guide but we recommend that you implement SpyHunter because it can eliminate Websaver and shield the system from multiple computer infections, such as Trojan horses, adware programs, fake security programs, browser hijackers, rootkits, and other threats.
How to remove Websaver
Windows Vista and Windows 7
Click the Start button in the bottom-left corner of the screen.
Right-click.
Select Control Panel.
Click Uninstall a program.
Remove the adware program.
Windows XP
Open the Start menu.
Click Control Panel.
Select Add or Remove Programs.
Uninstall the unwanted program.
Windows 8
Press Win+R and enter control panel.
Click OK.
Select Uninstall a program and remove Websaver.
In non-techie terms:
Once you have uninstalled Websaver, you should implement a reputable scanner which is capable of eliminating Websaver from the PC. If any undesirable files are detected by the scanner, invest in the program or remove the files manually, but keep in mind that your computer needs protection against malware and spyware attacks. Below you will find our instructions which will help you install the recommended security tool, and if you have any question, feel free to leave a comment below in the comment box.