Do you know what WebProtect virus is?
WebProtect virus is another common adware application that has been floating around the web recently. Our team of malware experts is well acquainted with these applications and firmly advises you to remove WebProtect virus from your operating system immediately. We advise you so because this dubious application is not valuable to you in any way. The only feature that it exhibits is the disruption of your web browser and browsing experience in general. Often users dismiss adware applications as nothing serious. Unfortunately, adware applications are often the cause of further infections infiltrating your operating system. Therefore, it must be removed if you want to preserve a clean system.
Even though, WebProtect virus does not have an official website with a direct download link reports show that numerous users are infected by this particular adware application. It means that most likely WebProtect virus is distributed bundled. Various installers from third-party hosting websites tend to be filled with questionable software.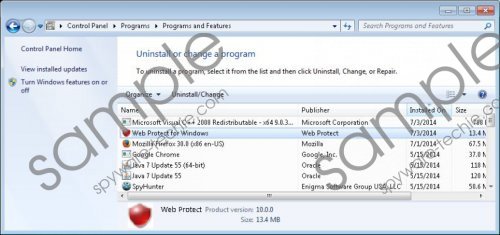 WebProtect screenshot
Scroll down for full removal instructions
If you tend to practice safe browsing habits, you should be able to avoid such doubtful installers. Downloading software from official vendors' website is important because it lowers the risk of getting unwanted application installed onto your PC significantly. Furthermore, you should implement a reliable antimalware tool as it can detect and remove dubious installers and other internet-based threats instantly.
As soon as WebProtect virus infiltrates your operating system it creates two additional processes that can be visible with the help of Task Manager. These processes are called postcollect.exe and PCProtect.exe. They are most likely responsible for displaying numerous adverts while you browse the web. Furthermore, analysis in our lab has shown that these processes could be responsible for additional downloads of unknown software, and they could also update WebProtect virus. It is possible because WebProtect virus can connect to the internet without any authorization. These activities could turn out to be very dangerous. For instance, without your knowledge WebProtect virus could download a Trojan, Keylogger or any other highly dangerous malware application. Until you remove WebProtect virus, your system will remain at constant risk.
Removal of this particular adware application is not that tricky. You should follow the instructions below and you should not encounter any problems. Often manual removal does not remove the infection entirely. Traces of WebProtect virus could still remain. It is impossible to determine how these leftovers would act, but it is best not to take the risk. In order to completely remove WebProtect virus, you will need to tweak the registry entries and identify various files and folders that could be malicious. These tasks are often hard to perform if you do not have any prior knowledge. If you believe that the manual removal is not for you, we recommend using a powerful antimalware tool instead.
How to remove WebProtect virus from your operating system
Remove from Windows 8
Navigate the mouse cursor to the bottom right corner of the screen.
In the Charm bar select Settings.
Now select Uninstall a program.
Find and uninstall WebProtect.
Remove from Windows 7 and Windows Vista.
Click the Windows button and select Control Panel.
Then select Uninstall a program.
Locate and remove WebProtect.
Remove from Windows XP
Click the Start button.
Select Control Panel.
Now select Add or Remove Programs.
Remove WebProtect.
In non-techie terms:
WebProtect virus is an adware application that could be the cause of other infections are infiltrating your operating system easily. It is important to remove WebProtect virus because it only exhibits potentially harmful traits. If you think that instructions above could be too complicated, please follow the ones below.