Do you know what WebGet is?
WebGet is an adware application that should be removed from your computer immediately. It is not a malicious computer security threat, but such applications should not be allowed to remain on any computer. WebGet pretends it is a useful browser extension that can improve your web search experience. However, WebGet does nothing of the sort, because "improving" translates as displaying countless pop-ups and other types of ads whenever you access online shopping websites. For manual WebGet removal instructions, please scroll down to the bottom of this description.
If you are not sure whether you have WebGet installed on your computer or not, there are a few ways to check it. First, you can open Control panel and check the list of installed programs. WebGet will definitely be there, if you have the application installed. Next, you may also check the list of browser add-ons and extensions via browser's settings. WebGet is compatible with Mozilla Firefox, Google Chrome and Internet Explorer. Eventually, the presence of commercial advertisements when you browse BestBuy, Amazon, eBay or any other similar online store will also be a tell-tale sign that WebGet is definitely there on your computer.
You might say that you do not remember installing WebGet at all. It might be the truth, because even if you were to accidentally access webwebget.com, the download link for WebGet is not available there. It is very common among SuperWeb adware applications, and the same feature could be applied to CrankWeb, WiseEnhance or Cling Clang extensions. Therefore, since WebGet cannot be downloaded from the official homepage, we are forced to make a conclusion that the application arrives bundled with freeware. According to our security research, this extension will be always bundled with third party installers and downloaders.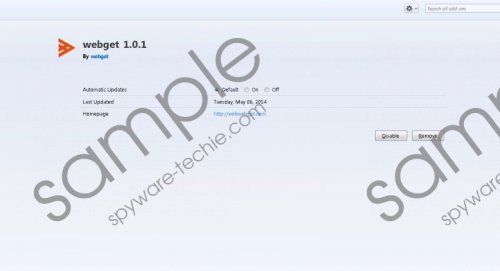 WebGet screenshot
Scroll down for full removal instructions
It is very likely that you do not even receive any notice about the oncoming changes, and WebGet gets installed onto your computer silently. As it has been pointed out in the previous paragraphs, this application is not a direct computer security threat. However, it is not a good idea to keep WebGet on your computer, because malevolent third parties might exploit the application to promote their corrupted content. Not to mention that adware is created to generate financial revenue to its creators and you can never be sure that the methods employed will be legal.
When you uninstall WebGet, look out for other potentially unwanted applications that might have been installed onto your system together with WebGet. To find these programs you should scan the PC with SpyHunter free scanner. Not to mention that you will be able to safeguard your system against any potential threats if you acquire a licensed antispyware tool.
Remove WebGet
Windows 8
Drag your mouse cursor across the screen to the bottom right corner.
When Charm bar appears, click Settings and go to Control Panel.
Select Uninstall a program and remove WebGet.
Windows Vista & Windows 7
Open Start menu and click Control Panel.
Go to Uninstall a program and remove WebGet.
Windows XP
Open Start menu and click Settings.
Go to Control Panel and double-click Add or remove programs.
Uninstall WebGet.
In non-techie terms:
WebGet is an application that generates pop-up ads when users access online shopping websites. These pop-ups might expose users to potentially corrupted and even malicious content, so it is strongly recommended to remove WebGet immediately.