Do you know what Webfuii is?
Webfuii is a piece of software that supports advertising, else known as adware. When it gets installed on your computer, it renders for the commercial advertisements to appear automatically. Webfuii displays commercial pop-ups because it generates financial revenue to its author. However, whoever creates Webfuii does not create the content for the pop-ups, and it means that the adware application relies on third party advertising network for the content. It means that the application can expose you to potentially malicious content, and that is the main reason why you should remove Webfuii from the PC.
Practically, there is nothing new about Webfuii, because it comes from the same group of adware applications as Kasimos, Cling Clang, Wisen Wizard and others. All of them have home pages, and you can check out Webfuii's website at webfuii.com. However, even though the application is presented as a useful browser extension that increases your overall web browsing quality, it is impossible to download Webfuii at its home page because the download link is dead. Actually, the same feature can be applied to all the other programs in the family.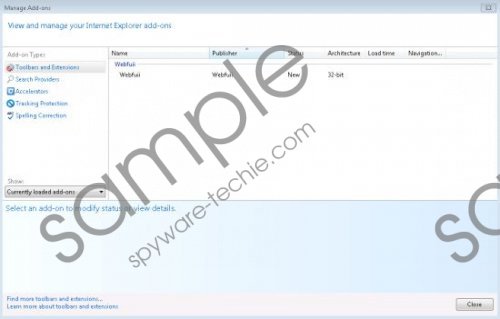 Webfuii screenshot
Scroll down for full removal instructions
It means that the main method of Webfuii distribution is bundled downloads. Rather than being downloaded directly from its home page, Webfuii travels around bundled with freeware applications and adware. It is possible to download shareware programs and other applications that come in packs from third party file hosting websites. It shows that you should download applications ONLY from their official websites, because downloaders available at third party web pages are often embedded with additional software you neither need nor want.
Webfuii gets installed on Google Chrome, Mozilla Firefox and Internet Explorer as a browser extension, and when it connects to a third party advertising network, it starts displaying various pop-ups advertisements. At first they may be random, but in the long run Webfuii will collect enough information on your browsing habits to generate personalized pop-ups.
The fact that Webfuii collects data on what websites you visit is definitely alarming, but your biggest concern at the moment are the pop-ups that contain third party content. If malevolent third party decides to exploit Webfuii for their malicious purposes, the adware application may indirectly become responsible for personally non-identifiable data leak or even worse – malware infection.
Therefore, to prevent any undesirable consequences, you ought to remove Webfuii from the PC right now. It should be obvious that it is necessary to remove all the other applications the adware program might have arrived with. Hence, to determine which programs need to be deleted from your PC, run a full system scan with SpyHunter free scanner.
How to remove Webfuii?
Windows 8
Slide your mouse cursor to the bottom right corner of the desktop.
Select Settings on Charm bar and then go to Control Panel.
Click Uninstall a program and remove Webfuii.
Windows Vista & Windows 7
Open Start menu and go to Control Panel.
Click Uninstall a program and remove Webfuii.
Windows XP
Open Start menu and navigate to Control Panel.
Select Add or remove programs and uninstall Webfuii.
In non-techie terms:
Webfuii is a potentially unwanted program that displays a lot of commercial content. This content may be risky and you could get infected with malware eventually. To protect your computer from harm, remove Webfuii as soon as you can.
Aliases: Webfuii ads.