Do you know what Webdown-loader.com is?
Although an interface of a website Webdown-loader.com suggests that it is an ordinary search tool, research carried out by our experienced team of specialists has shown that it is far from a trustworthy search engine, so it would be very naive to expect it to improve the web searching experience in any way. We can assure you that Webdown-loader.com has not been developed to help you perform web searches more efficiently. Instead, it seems that it is only a tool for driving traffic to certain pages, i.e. promoting them, so if you ever discover it set on any of your web browsers, go to get rid of it without consideration. Research has revealed that this search tool is usually set as a new homepage, search tool, and New Tab page on all users' web browsers, which means that you will see it every day. Even though it has been set on your browsers, it does not mean that you have to keep it and use it as a default search tool. You will have to put some effort into its removal, but, after getting rid of it, you could set a new page you like. Also, you would considerably reduce the chances of getting infected with malicious software by removing it.
Webdown-loader.com is presented as a search tool to users. It has a search box in the middle and, at the bottom of its main page, there is a bar containing quick-access buttons. These buttons allow users to open such websites as Amazon, Facebook, Twitter, and eBay with the click of a button, so many users find this feature useful and decide to let Webdown-loader.com stay. Researchers have proof that this website is not what it seems to be at first glance. Their research has revealed that this search tool might show untrustworthy search results to users. Specifically speaking, users might be provided with sponsored links. Although Webdown-loader.com displays Yahoo! search results, it first redirects all the search queries to Search.securefindersearch.com, so specialists have not found it surprising at all that the final product displayed to users is the so-called modified search results. In this sense, Webdown-loader.com does not differ from such dubious websites as Search.mycouponsxp.com, Search.myspeedtestxp.com, and Search.myemailxp.com. These modified search results displayed by untrustworthy search tools usually look completely harmless; however, they are not as innocent as they look, for sure. According to specialists, they might even redirect users to untrustworthy third-party pages if they ever click on them. Since users do not know about their presence, they click on all the search results they see opened for them. In fact, it would be best not to use a search tool which shows potentially dangerous search results rather than try to avoid those search results.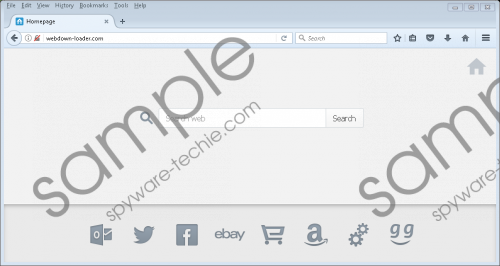 Webdown-loader.com screenshot
Scroll down for full removal instructions
We believe users when they say that they do not know why Webdown-loader.com is set on their browsers because research has clearly shown that this browser hijacker arrives on computers illegally and then immediately applies changes. Specialists say that it might travel in malicious software bundles. In this case, it gets onto users' PCs when they install such bundles. Additionally, this infection might be promoted by pop-up advertisements. Yes, it might be enough to click on a single advertisement to find browsers' settings changed. As can be seen, untrustworthy applications are sly, so protecting the system from them is a challenge for so many users. Luckily, a number of reputable security applications have already been developed to help them, so install one on your PC as well. If you keep it enabled 24/7/365, malicious software will find it impossible to enter your system ever again.
Resetting all affected web browsers is one of the easiest ways to delete Webdown-loader.com from browsers, so if you are not going to use an automatic scanner, you should adopt this method to restore the default settings. Consult our manual removal instructions if you need some help with that. Although you will no longer see Webdown-loader.com after resetting all your browsers, other untrustworthy programs might still be active on your system and perform activities without your permission, so it might be smart to perform a system scan with a reputable scanner.
How to delete Webdown-loader.com
Internet Explorer
Open Internet Explorer and tap Alt+T.
From the Tools menu, select Internet Options.
Open the Advanced tab and then click Reset.
Select Delete personal settings.
Click on the Reset button one more time.
Mozilla Firefox
Launch your Mozilla Firefox browser.
Press Alt+H.
Click Troubleshooting information.
Click on the Refresh Firefox button at the top part of the page.
Click again Refresh Firefox in the confirmation window.
Google Chrome
Open Google Chrome.
Tap Alt+F to open its menu and click Settings.
Move to the bottom.
Click Show advanced settings.
Click on the Reset settings button.
Click Reset.
In non-techie terms:
Not all the search engines which look like genuine search providers are trustworthy. Some of them only pretend to be powerful search tools but, in reality, they are nothing more than tools to distribute advertisements. Webdown-loader.com is one of them. In fact, it is not hard at all to recognize a potentially dangerous search tool – it sets itself as a homepage and default search engine. If unauthorized changes are ever applied to your browsers again, go to get rid of a website you see without hesitation.