Do you know what WebBrowserSearch.com is?
WebBrowserSearch.com is a search engine which has been designed by AOL and which offers you reliable, easy-access links to various popular websites, including Facebook, Twitter and LinkedIn. The search engine also provides you with such search modules as Web, Images, Video, Shopping and News. Note that searches performed using the last three modules are usually routed to google.com. Even though some spyware researchers recommend that you remove WebBrowserSearch.com from the Internet Explorer, Mozilla Firefox and Google Chrome browsers, experts at spyware-techie.com state that this is unnecessary.
The Privacy Policy of WebBrowserSearch.com discloses that the website may use cookies to collect information regarding your virtual habits and actions. This is not illegal, and you may disable installed web cookies at any point. Se an excerpt from the Privacy Policy:
AOL may use cookies, web beacons, or other technologies in combination with your AOL information to enhance and personalize your experience on AOL. […] AOL may share your AOL information with third parties to provide products and services you have requested, when we have your consent, or as described in this Privacy Policy.
If personal data collected by web cookies was leaked to malicious third parties, it is possible that misleadingly attractive ads could be presented to you whenever you browse the web. As research shows, WebBrowserSearch.com is dominated by Sponsored Links which can be seen at the top and the bottom of your search result pages. The middle section is dedicated to Searches related to your keywords and the actual Web Results.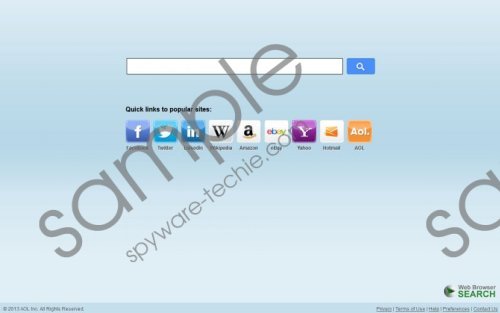 WebBrowserSearch.com screenshot
Scroll down for full removal instructions
It is unnecessary to remove WebBrowserSearch.com from the operating Windows system; however, if you wish to surf the web without facing any risks, it would be best to install authentic spyware detection and removal software. Note that any careless steps performed within the virtual world could lead to spyware infiltration. Therefore, you should take all of the appropriate measures to safeguard the system. If you still wish to remove WebBrowserSearch.com from your home page, follow the instructions below.
Remove the unwanted home page
Remove from Internet Explorer or Mozilla Firefox:
Launch a browser, simultaneously tap Alt+T and select Internet Options (Internet Explorer) or Options (Mozilla Firefox).
Click the General tab and navigate to Home Page.
Overwrite the set URL and click OK.
Remove from Google Chrome:
Open the browser, simultaneously tap Alt+F and select Settings.
Under On Startup mark Open a specific page or set of pages and click Set pages.
Change the provided URL and click OK.
Under Appearance mark Show Home button, click Change and repeat step 3.
In non-techie terms:
WebBrowserSearch.com is an authentic search engine which promotes sponsored content in order to generate profit. This activity is not illegal; however, you should be cautious about the websites you visit or the ads you click on. To ensure full-time Windows protection – install authentic security software.
Aliases: Web Browser Search.