Do you know what Web United is?
Web United is an adware application that is closely related to the SuperWeb family of potentially risky adware programs. Due to this affiliation and a number of other disturbing facts, you are strongly encouraged to remove Web United from your computer immediately. Failing to delete Web United from the system on time might result in multiple computer security issues. We are not trying to say that Web United is a malicious virus, but adware programs should not be taken lightly because they could be exploited by cyber criminals.
It is not possible to download Web United from its official website via mywebunitedapp.com because the direct download link is not provided. Adware programs do not really need to indulge in direct distribution because they can be easily spread around in software packages. As far as Web United is concerned, it is known to be distributed with InstalliQ installers, so if you download a program through this installer, chances are you will end up installing more than just one unwanted application. For example, VideoBuzz Media Player is known to be distributed via InstalliQ installers, and it comes with additional offers. Web United is one of them, but you could also install ArcadeParlor, Content Explorer, PC Optimizer Pro, and other unwanted programs.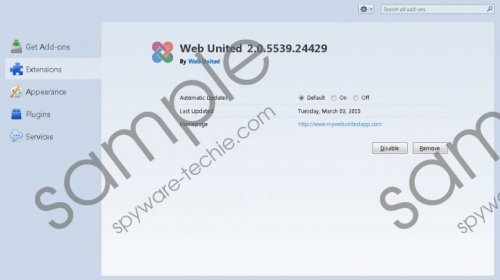 Web United screenshot
Scroll down for full removal instructions
When Web United enters your system, it adds extension to your default browser. Our research team says that Web United is compatible with the Internet Explorer and Mozilla Firefox web browsers, although there is no guarantee that it will not affect Google Chrome in the future too.
This Web United plug-in collects information on what websites you visit during your web browsing sessions. It also can monitor your web search keywords. Adware programs like Web United and its direct clone Strong Signal need to collect his kind of information because they are designed to provide custom advertisements, and if Web United doesn't know your likes and preferences, it clearly can't provide you with specially tailored ads.
These Web United ads should help you find various deals and coupon offers, thus improving your online shopping experience. However, security experts recommend AGAINST clicking any of the ads provided by suspicious adware applications. The point is that, adware apps cannot guarantee the safety of the outgoing links they promote, because third-party content is not covered by their Privacy Policy.
Hence, if you want to avoid potential computer security problems, you will do yourself a favor by deleting Web United from the PC. Luckily, it is not that hard of a task, and you can uninstall the program by following the manual removal instructions below this description. However, your computer would be protected 24/7 if you invested in an actual security program. Please give it a thought.
How to Uninstall Web United
Windows 8 & Windows 8.1
Move your mouse cursor to the bottom right corner of the screen.
Click Settings on the Charm bar and go to Control Panel.
Open Uninstall a program and remove Web United.
Windows Vista & Windows 7
Open the Start menu and go to Control Panel.
Click Uninstall a program and remove Web United.
Windows XP
Click the Start button and navigate to Control Panel.
Access Add or remove programs and uninstall Web United.
In non-techie terms:
Web United is a browser extension that is supposed to help you find the "best results, best deals and greatest opportunities available." However, this adware application can be used as a tool by cyber criminals to redirect you to sites that distribute malware. You need to avoid this by removing Web United right now and ensuring your computer is protected against harm.