Do you know what Web Tripp is?
Web Tripp is an adware application that should not be allowed to remain on your computer. This program may accidentally expose you to dangerous websites that collect personally non-identifiable information. In some cases, you could even end up getting infected with malware. We are not trying to say that Web Tripp is there to promote malicious programs, but if you care about your system's security, you will remove Web Tripp immediately. There is nothing reliable about this program, and you should not keep it on your system any longer.
We should mention that Web Tripp is not a malicious computer virus. It is merely an adware program from the SuperWeb family. As such, Web Tripp is very similar to Key Lime Lizard, Rock Turner Ads, AppEnable, and many other applications from the same group. There are countless programs from this adware family because they are easy to develop and even easier to install on target computers. You might think that one can download Web Tripp at webtripp.info, but that is certainly not true. The direct download link on the main website does not work, which is not surprising, considering that all the SuperWeb adware applications get distributed bundled with freeware.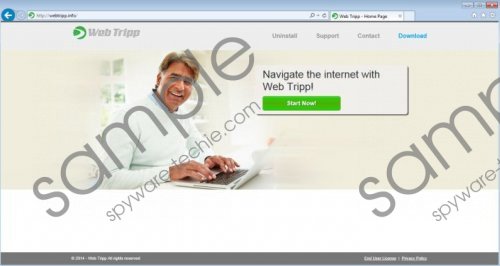 Web Tripp screenshot
Scroll down for full removal instructions
This means that you have downloaded and installed Web Tripp onto your computer yourself. Perhaps you didn't notice that you installed more than one application on your PC, but it often happens when users download freeware apps at file hosting websites. These third-party websites are not responsible for the security of the downloaded programs, so you need to be extremely attentive when you go through the installation wizard. The setup might have some information on Web Tripp or other potentially unwanted application, but users quite often miss it because they simply skip quickly through the installation steps.
Do not be surprised to see tons of commercial ads pop up on your web browser if you have Web Tripp installed on your computer. This adware application collects data on your web browsing habits and then makes use of it in order to create customized commercial advertisements. Technically, Web Tripp indulges in online marketing, but the problem is that the application can be exploited by any third party that knows how to make use of it. Thus, Web Tripp can become a tool in a malware distribution network or any other suspicious scheme.
It is necessary to remove Web Tripp from your system because adware programs are very vulnerable to third-party exploitation. While you are at it, scan your computer with a licensed antispyware tool and terminate other unwanted applications, because you are bound to have some. For any further questions, please leave us a comment.
How to remove Web Tripp
Windows 8
Move the mouse cursor to the bottom right of the screen.
Click Settings on the Charm bar and go to Control panel.
Select Uninstall a program and remove Web Tripp.
Windows Vista & Windows 7
Open the Start menu and select Control Panel.
Go to Uninstall a program and remove Web Tripp.
Windows XP
Click the Start button and go to Control Panel.
Select Add or remove programs and uninstall Web Tripp.
In non-techie terms:
Web Tripp is a potentially unwanted program that may accidentally expose you to dangerous websites. Adware programs are highly vulnerable to malicious exploitations, so it is in your best interests to remove Web Tripp from your computer as soon as possible.