Do you know what Web Safeguard is?
You might not recognize at first that Web Safeguard is definitely not a useful browser extension. It does function like one, but in reality Web Safeguard is just an adware program that tries to make money by redirecting you to third-party websites. It would be in your best interests to remove Web Safeguard from your system, as there is no telling what could happen if the adware application remains on your computer. We are not trying to say that Web Safeguard is a malicious computer infection, but you have to keep in mind that adware is often related to other system threats.
For example, Web Safeguard could be easily exploited by cyber criminals to collect your personally non-identifiable data. Adware programs are extremely vulnerable to third-party exploitation, and they are perfect tools for information collection. Web Safeguard installs a plug-in on your default browser, and through this plug-in, the application finds out what you search for online and what websites you frequent on a regular basis. This information is supposed to be used by the adware app to provide you with relevant commercial advertisements, but it could also be exploited by malevolent third parties to target ads with corrupted content at you. That is why it is important to delete Web Safeguard from your system and then check for other unwanted applications.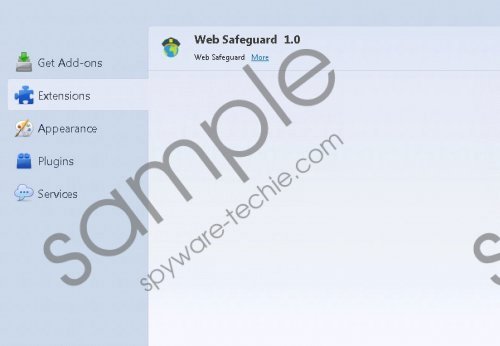 Web Safeguard screenshot
Scroll down for full removal instructions
Our research lab team also points out that Web Safeguard might be not the only unwanted program on your computer. Even though this adware application boasts of an official website that can be accessed via web-safeguard.com, its main distribution method is software packages. Bundled software can be downloaded from file-sharing websites and other third-party sources that distribute freeware. That is how users end up installing multiple applications that cannot really be trusted. The biggest problem is that users often do not realize they have Web Safeguard on their computers, or that they need to remove it.
Web Safeguard comes from the same group of adware applications that include Price-Hipo, Proshopper, Price-Horse, and so on. While the previously released apps were promoted as browser plug-ins that provide users with relevant information on various discounts and coupon offers, Web Safeguard is said to be a browser security tool. It should protect your web browsing from any potential security threats you might encounter on the web.
Needless to say, the program does not live up to its promises. The problem is that rather than focusing on its original "task," Web Safeguard just spams you with annoying pop-ups, most of which could be embedded with corrupted links that lead to malware-related websites. You obviously have to avoid being redirected to websites that are related to cyber crime networks.
Therefore, you must remove Web Safeguard and everything related to it from your computer. You can do it on your own, and for that we provide the manual removal instructions below. However, if you are not confident of your software removal skills, you can always resort to using a licensed antispyware product. That would be a far more efficient way to get rid of potential system threats.
How to Remove Web Safeguard
Windows 8 & Windows 8.1
Move the mouse cursor to the bottom right of your screen.
Click Settings on the Charm bar and go to Control Panel.
Open Uninstall a program and remove Web Safeguard.
Windows Vista & Windows 7
Click the Start menu and navigate to Control Panel.
Select Uninstall a program and remove Web Safeguard.
Windows XP
Open the Start menu and select Control Panel.
Access Add or remove programs and uninstall Web Safeguard.
In non-techie terms:
Web Safeguard is not a useful program. This application will not allow you to browse the Internet in peace. All the pop-up ads and other annoying commercial messages you see on your screen are generated by Web Safeguard. If you want to get rid of them and protect your system from even more serious threats, you have to remove Web Safeguard right now.