Do you know what Web Protector is?
Web Protector is an adware application that tracks your online activities and then makes use of that information to generate customized commercial advertisements. Web Protector technically needs to display such ads in order to support itself, but the problem is that, quite often, such pop-ups are embedded with links to unreliable websites. Thus, you should remove Web Protector from your computer if you want to avoid potential security threats. What's more, you should stay away from unfamiliar websites that could be involved in malware distribution networks.
You probably have not even noticed when or how Web Protector managed to enter your computer. Granted, it is very unlikely that you downloaded this application directly because users seldom install such programs consciously. It is far more likely that you downloaded Web Protector bundled in a software package from a third-party file sharing website. You should know that, whenever you download a freeware application from a file hosting site, you use a third-party downloader to download a setup file, and consequently, this downloader may come embedded with additional applications such as Web Protector that could end up being installed on your system with your permission!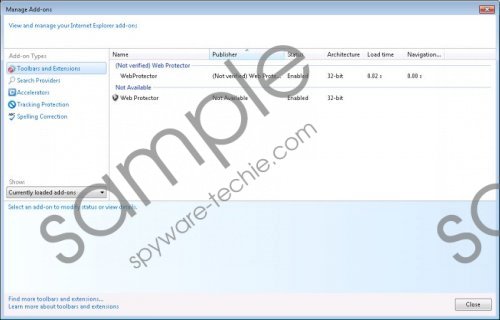 Web Protector screenshot
Scroll down for full removal instructions
Our research team says that Web Protector is a half-working adware application that is similar to Side Finder. This means that Web Protector exhibits only half of the functions it is supposed to have. When the application is installed on your computer, Web Protector displays pop-ups at the bottom of your web browser's window. These pop-ups usually urge you to update your Flash player, saying that your old player cannot support all the flash videos on multiple sites. However, clicking the links distributed by Web Protector redirects you to websites that promote adware applications and malware programs, so it is clear that you must remove Web Protector from your computer as soon as possible.
On top of that, you should also delete other unwanted applications that might have entered your system together with Web Protector. If you are not sure which programs must be removed from your computer, scan the system with the SpyHunter free scanner. This scanner will generate a list of all the potential threats, and you will be able to remove them at once.
Usually, it is possible to remove Web Protector and similar adware applications manually via Control Panel. However, sometimes manual removal may not be enough to delete all the adware-related files. Hence, it is always a good idea to scan your PC with a licensed antispyware tool to make sure your computer is really safe and clean.
How to Uninstall Web Protector
Windows 8 & Windows 8.1
Move the mouse cursor to the bottom right corner of your screen.
Click Settings on the Charm bar and go to Control Panel.
Open Uninstall a program and remove Web Protector.
Windows Vista & Windows 7
Open the Start menu and select Control Panel.
Open Uninstall a program and remove Web Protector.
Windows XP
Click the Start button and navigate to Control Panel.
Select Add or remove programs and uninstall Web Protector.
In non-techie terms:
Web Protector is an annoying application that may inadvertently expose your personally non-identifiable information to malevolent third parties. This could lead to serious computer security issues, so you have to remove Web Protector from your system along with other unwanted applications that you might have on-board.