Do you know what Web Optimizer is?
Web Optimizer is a browser extension that functions like adware program. You may download this application at web1optimizer.net although it is very unlikely that users download this program from the official webpage. There are other ways for Web Optimizer to enter your computer, and it probably makes use of them quite often. Although this program is not a direct computer security threat, you should uninstall Web Optimizer from the PC because it is not 100% safe to use. Such applications are too vulnerable to a third-party exploitation to keep them on your PC.
Since users seldom download such applications from their homepages, they usually get distributed bundled with freeware. Web Optimizer is of no exception. The application is built on DealPly platform, so it employs the same distribution methods as all the other similar programs. For example, we know that Web Optimizer is a direct clone of WebCheck, SecurtiyUtility and WebEnhance applications, so it will also use the same distribution routes.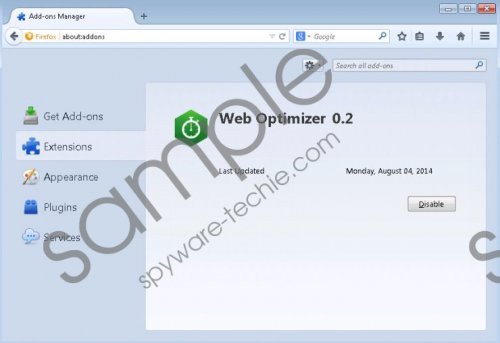 Web Optimizer screenshot
Scroll down for full removal instructions
Our research lab team suggests that Web Optimizer usually gets installed on computers with German IP addresses. It is often included in Amonetize installer, and Web Optimizer may arrive with such programs as Remarkit, DolphinDeals, Wajam and many others. It means that if you have this application on your computer, chances are that there are many other unwanted programs on board as well.
Web Optimizer claims that it can help you improve your web browsing experience, by making surfing the Internet more secure and protecting you from phishing attacks. It says that "data-skimming pages are eager to steal your data and sell it to hackers," and "Wifi Networks are vulnerable to security breaches." Web Optimizer promises to protect you from various cyber threats, but the problem is that it may also cause quite a few security issues.
The problem is that this application collects data on your web browsing habits. Since Web Optimizer is free, it needs to support itself somewhat, and the application does that by displaying commercial advertisements. The ads pop up on your browser when you access popular web stores. At first glance, such activity is more annoying than dangerous, but you should remember that Web Optimizer does not review what kind of content gets embedded into the ads, so it cannot guarantee that the content will always be safe.
By keeping Web Optimizer on your computer, you are bound to get exposed to annoying and even malicious content on random websites. Thus, you will do yourself a favor if you remove Web Optimizer from the system right now.
How to uninstall Web Optimizer
Windows 8
Move mouse cursor to the bottom right of the screen.
Click Settings on Charm bar and go to Control panel.
Select Uninstall a program and remove Web Optimizer.
Windows Vista & Windows 7
Open Start menu and select Control panel.
Go to Uninstall a program and remove Web Optimizer.
Windows XP
Open Start menu and navigate to Control Panel.
Select Add or remove programs and uninstall Web Optimizer.
In non-techie terms:
Web Optimizer is an adware program that disturbs your web browsing by displaying annoying ads. You need to delete this application from your computer and then scan the system with SpyHunter free scanner because you are bound to have more adware apps installed as well. If you have any questions, please leave us a comment.