Do you know what Web Monitor is?
Web Monitor is supposed to be the "The Best Free Web Monitoring App, " as the creators like to refer to their "child"; however, this is definitely not their only best free app since our researchers have found its identical twin called WebWatch. We have written about the latter application recently, so we can tell you that they are practically the same adware with different names. While Web Monitor offers you an insight into the "unknown" by revealing who is tracking you, it will litter your computer screen with useless third-party advertisements instead. Since it is never fully safe to click on such ads, you might even find yourself in the center of an online scam. We recommend that you remove Web Monitor right now if you intend to keep your computer secure.
Web Monitor has mostly two ways to get onto your computer. It can be downloaded from its website, getwebmonitor.com, or it can come bundled with free software and more malware threats. Unfortunately, both of these ways raise questions and make this adware rather suspicious. If you try to download it from the official website, your browser may block the executable file as malicious software. Now that does not sound too good for a start, does it? There is another problem with the website; namely, if you take the bait and click on the link that says, "View who's tracking you - Here!," you will find yourself on a fake page that pretends to want to show you results and even offers you some solutions if you cannot see them. The sad truth is that, at the bottom, you can read a note that says, "You must have Web Monitor installed for this page to function" – suspicious and pushy, the two words that come to mind right away.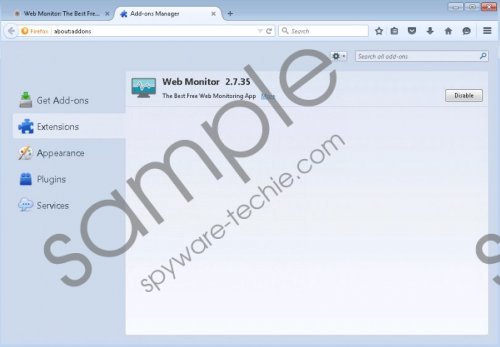 Web Monitor screenshot
Scroll down for full removal instructions
You are, of course, not at all better off having the bundled version on your computer, because it may mean that Web Monitor is not the only threat you have to face and fight. A lot of computer users do not know that it does not necessarily have to be this way. Even if you end up downloading an infected bundle from some questionable source, when you are installing it, you usually have a chance to deselect the unwanted programs. Of course, you can also prevent such bundles from landing on your machine if you keep away from shady shareware sites.
Removing Web Monitor can save you from a lot of headaches, potential exposure to cyber criminals, and more malware infections. Here is what you need to do to reach your goal: Identify the application in the list of installed programs in Control Panel, and uninstall it. That should not be difficult even if you are not an IT expert. However, if you are inexperienced in manual software removal, please use our guide below to feel the sweet feeling of victory over an annoying adware. Remember to refrain from visiting unfamiliar, suspicious websites, and clicking on third-party advertisements. Also, keep your Windows operating system updated along with all your browsers so that they are protected against the latest known vulnerability exploitations.
Remove Web Monitor from Windows
Windows 8/Windows 8.1/Windows 10
Tap Win+Q and type in Control Panel. Click OK.
Open Uninstall a program.
Click on the program and click Uninstall.
Windows Vista/Windows 7
Open the Start menu and access Control Panel.
Select Uninstall a program.
Click on the program and click Uninstall.
Windows XP
Access the Start menu and open Control Panel.
Select Add or Remove Programs.
Click on the program and click Remove.
In non-techie terms:
Web Monitor is a useless adware application that disguises itself as a browser protector that can block malicious websites and show you reports on who is tracking you. Unfortunately, this adware will only spam your screen with advertisements that might even take you to unreliable websites if you click on them. It is necessary to remove Web Monitor, if you want to avoid the unpleasant consequences of landing on questionable sites. Installing a trustworthy malware remover can automatically handle all your security-related issues.